News
First Sanctioned 300 Game on TMS String Pinspotters in Australia
Robert Townsend bowls perfect 300 game at Zone Bowling Belconnen on TMS String Pinspotters
February 11, 2019 (Mechanicsville, VA) – QubicaAMF Worldwide (QubicaAMF), the largest bowling products company in the world, is excited to announce that Australia's first sanctioned 300 game was achieved by Robert Townsend in this year's Canberra ACT State Championships at Zone Bowling Belconnen.  This record occurs just a month after the first sanctioned game in the UK, at Airport Bowl, making Robert the the second person ever to bowl a sanctioned 300 game on string machines.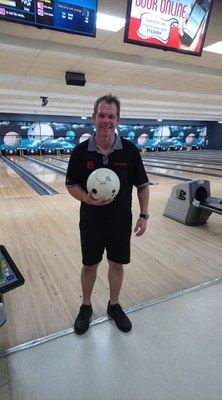 In a conversation with QubicaAMF's Director, International Relations & Sports Development, Roger Creamer shares, "Bowlers have slowly come around to the concept of string pinspotters, and typically do not even notice the difference compared to free-fall pinspotters. With more and more adoption of centers converting to TMS String Pinspotters, we expect to see many more 300 games during sanctioned tournaments."
Located just across the road from the University of Canberra, this center offers tournament play, open play for families and young adults, birthday parties and corporate events.  With the new TMS String Pinspotters,Zone Bowling Belconnen is confident to support their entertainment business as well as cater to the sports focused enthusiast such as Robert Townsend.  Considering its location, those string machines should get plenty of use and it won't be the last 300 game recorded on the TMS String Pinspotters.
ABOUT QUBICAAMF WORLDWIDE
QubicaAMF is the largest and most innovative bowling equipment provider in the world with 600 employees worldwide. We build and modernize more bowling entertainment centers than any other company in the industry and have an installed base of more than 10,000 centers in 90 countries. The company has a sales and distribution network with worldwide reach and maintains the largest R&D team for electro-mechanical products, software, electronics, and entertainment systems in the industry.
QubicaAMF has over 100 years of experience and can provide the perfect combination of bowling equipment, products, and services for new or existing bowling entertainment centers, FECs, Cinemas, or any other facility in the hospitality, retail, or restaurant industry. Our ongoing mission is Making Bowling Amazing. We are convinced that bowling has so much more potential to attract and entertain even more people. With our products, we will help our customers fully unleash that potential.
The company has U.S. headquarters in Richmond, Virginia and European headquarters in Bologna, Italy.