News
Bowl 32 is Providing a Better Guest Experience and Realizing Significant Growth with BES X
The center has seen a 40% increase in revenue growth since September 2015
"It's not just making X's and dashes. It's creating memories."
Owner of five bowing centers, including Bowl 32, David Small immediately saw the potential to enhance his business by catering to Noblesville clientele, which is the fastest growing town in Indiana.  Facing the challenge of changing his business model, he realized he would have to offer a better overall guest experience, and a scoring system that would satisfy this demanding yet very lucrative market.  In September 2015, Dave made the decision to upgrade his scoring and center management systems to BES X and Conqueror Pro, which resulted in a total package with options to "make the game cool again," according to Dave Small.
"If you really want to go family entertainment, change your business model, customer service and change your center, BES X is definitely your option," says David Small, Owner of Bowl 32. "It's not just making X's and dashes.  It's creating memories.  If I see a little boy or girl with a big smile, giving me a big hug and saying 'thank you,' that's what it's all about for me."
In terms of overall revenue, the new business model fostered by BES X has certainly been a boom to Bowl 32 as well.  Previously, the center would bring in $6,500 on an average Saturday night.  Now their revenue is consistently up some 40%.  In fact, with an average ticket of about $103, they consistently book $12,000-$15,000 on a typical Saturday night, which is remarkable for a 32 lane center.  What's more, Bowl 32's party business has skyrocketed since the installation of BES X, and has seen the number of booked birthdays doubled and corporate events tripled.
"We are extremely excited to see the success David Small has had at Bowl 32 after upgrading his scoring system to BES X.  David is a prime example of how owners are looking to enhance their bowler's experience, and how BES X is able to drive significant revenue results," states Jay Buhl, Senior Vice President and General Manager, The Americas for QubicaAMF.  "We are happy that Bowl 32 has joined the BES X Family, and that we were able to help Dave create his dream center."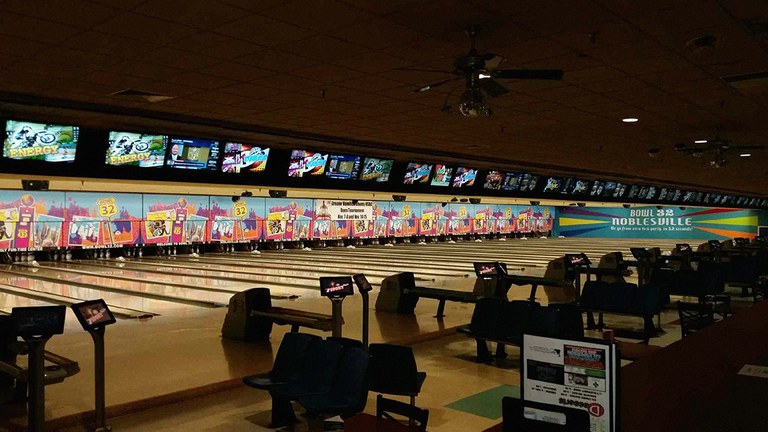 "Bowl 32 is the epitome of what BES X was designed to deliver.  Created to provide each consumer group what they need to have more fun, compete, socialize and relax, BES X is the perfect tool to enhance your business model and offer the customer something beyond traditional bowling," says Kelly Wilbar, Director, Scoring & Technology Solutions.
BES X is the result of extensive market research, a proven process for product innovation and over three years of investments in research and development. It is the only system in the world designed to take every aspect of what makes bowling appealing to people to the next level, aimed to grow bowling businesses and drive the industry forward. Today, over 550 centers representing more than 9,800 lanes in 62 countries around the world are successfully using BES X, and over 50 million games have been bowled on BES X. In addition, centers are consistently reporting typical increases in total revenue upwards of 20%, expanded repeat business, and longer customer visits—all within the first year of installing the system. 
Dave Small will be serving on the panel for the upcoming BES X Seminar at the 2016 Bowl Expo on Tuesday, June 28 in the BPAA Sponsor Pavilion.  For more information on how BES X can redefine the bowling experience and grow center revenue, please visit www.qubicaamf.com
###
About QubicaAMF Worldwide
QubicaAMF Worldwide is the world's leading manufacturer and marketer of bowling and mini bowling products. With worldwide headquarters near Richmond, Virginia and European headquarters in Bologna, Italy, the company offers a complete line of high-quality, innovative solutions for new and existing bowling and entertainment centers.
QubicaAMF has over 75 years of experience, an installed base of more than 10,000 centers worldwide and can provide the perfect combination of bowling equipment, products and services to build a traditional bowling center, an FEC or entertainment facility to suit any budget. The company has sales offices in 10 countries, a distributor network with worldwide reach and maintains the largest R&D team for software, electronics and entertainment systems in the industry.
QubicaAMF is the organizer of the QubicaAMF Bowling World Cup, the largest annual sporting event in terms of the number of participating countries, which promotes bowling on a global level. The company celebrated the historical 50th anniversary of the tournament in 2014.
Additional information about QubicaAMF is available at www.qubicaamf.com.
About Bowl 32
Bowl 32 is a 32 lane bowling center owned by seasoned bowing proprietor, David Small.  This center was opened in Noblesville, Indiana and renovated in September of 2015.  Owner of five bowling centers, David Small understands what it takes to be successful and has been a valued customer and partner of QubicaAMF.  Upgrading from Brunswick AS90 scoring to BES X, the Only Bowling Entertainment System, they have seen significant results and increase in their customer base.   Featuring 32 lanes of bowling, arcade, mini golf, and party venue, Bowl 32 is THE place to be in Noblesville, Indiana.   More information is available at www.Bowl32.com
ABOUT QUBICAAMF WORLDWIDE
QubicaAMF is the largest and most innovative bowling equipment provider in the world with 600 employees worldwide. We build and modernize more bowling entertainment centers than any other company in the industry and have an installed base of more than 10,000 centers in 90 countries. The company has a sales and distribution network with worldwide reach and maintains the largest R&D team for electro-mechanical products, software, electronics, and entertainment systems in the industry.
QubicaAMF has over 100 years of experience and can provide the perfect combination of bowling equipment, products, and services for new or existing bowling entertainment centers, FECs, Cinemas, or any other facility in the hospitality, retail, or restaurant industry. Our ongoing mission is Making Bowling Amazing. We are convinced that bowling has so much more potential to attract and entertain even more people. With our products, we will help our customers fully unleash that potential.
The company has U.S. headquarters in Richmond, Virginia and European headquarters in Bologna, Italy.