2005
Ljubljana, Slovenia
41st AMF Bowling World Cup - November 13th to 20th 2005
08/29/2005
The QubicaAMF Bowling World Cup Comes To Ljubjana's Old Town
THE QUBICAAMF BOWLING WORLD CUP COMES TO LJUBLJANAÂ'S OLD TOWN
The Grand Hotel Union, standing in the very heart of LjubljanaÂ's old town in Slovenia, is the official hotel for this yearÂ's QubicaAMF Bowling World Cup. The event will take place at the Gladiator Bowling Centre from 13th to 20th November 2005.
The hotel is celebrating its 100th anniversary, having been built after a major earthquake in 1905. It was then extensively refurbished in 1998 and has welcomed Heads of State and leading government members from many countries since. Facilities include gym, swimming pool and sauna, choice of restaurants, coffee shop and bar. More about the hotel and the 100th celebrations can be found on its web site www.gh-union.si.
The history of Ljubljana dates back to Roman times, when the town was known as Emona. It was largely destroyed in the 1905 earthquake and reconstruction gave it a new contemporary image with Art Nouveau architecture and decoration contrasting with the older Baroque style.
It now has 276,000 inhabitants and combines the compactness of a small city with the facilities of a metropolis. The delightful old town, which is overlooked by the castle high on the hill, houses a wide variety of boutiques, caf廥, bars and restaurants and is sure to be an attraction for QubicaAMF Bowling World Cup players and guests.
Further afield are Lake Bled, with its picturesque island and old castle on a rock, and the Postojna cave system, the second largest in the world. QubicaAMFÂ's official Bowling World Cup tour agency, Globtour, will arrange day trips for all World Cup visitors to these and other destinations at very reasonable prices. In addition they will be offering a balloon flight over the city, weather permitting.
QubicaAMF Bowling World Cup manager, Anne-Marie Board, commented: "Ljubljana is a lovely city. It's very cosmopolitan and has a lot to offer our visitors. I am sure the 41st QubicaAMF Bowling World Cup will be an event to savour and remember for years."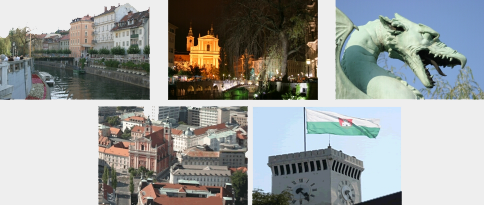 Notes for Editors
Photographs of the City of Ljubljana are available from Anne-Marie Board: amboard@amf.com
The 41st edition of the QubicaAMF Bowling World Cup will be held at the Gladiator Bowling Centre, a brand new centre which opened in May 2005. The centre is owned and operated by Kolosej, one of the biggest leisure and entertainment companies in Slovenia and QubicaAMFÂ's key partner for this yearÂ's event. More can be found on their web site: www.kolosej.si. For further information on the Gladiator leisure complex, please go to www.arenalive.si.
Additional information on the QubicaAMF Bowling World Cup, including archives and bulletins for this yearÂ's tournament, can be found on www.amfbowlingworldcup.com.
QubicaAMF Bowling Worldwide is the founder, organiser and principal sponsor of the Bowling World Cup and is also one of the leading bowling products manufacturers and marketers in the world. With worldwide headquarters near Richmond, Virginia, USA and European headquarters in Bologna, Italy, the joint venture offers a complete line of high quality, innovative solutions for new and existing bowling and entertainment centres. The name of the event was changed to QubicaAMF Bowling World Cup following the merger of Qubica and AMF earlier this year. For more information on the merger on QubicaAMF worldwide can be found in www.qubicaamf.com.
Archives
Since the first event in 1965, winning AMF's Bowling World Cup title has been the most coveted goal in amateur bowling. Whether held in the shadows of the Great Pyramids in or under the bright lights of , each tournament has provided unforgettable moments from competition that has spanned five decades.

Browse the archives to discover or revisit these moments, competitors, and the great champions that have made up the rich history of AMF's Bowling World Cup.