Kim Haugen's near-perfect 290 game in the men's championship round was a fitting final flourish to the story of the 37th annual AMF Bowling World Cup, made remarkable with a series of individual and country achievements. The 2001 edition concluded November 10 at P.S. Bowling in Pattaya, Thailand, with Norway's Haugen and Japan's Nachimi Itakura being crowned champions.
Haugen's closing effort gave him a two-games-to-none victory over 1999 World Cup champion Ahmed Shaheen of Qatar, 238-216 and 290-186, in the best-two-of-three-games "knockout" format and made him the third Norwegian man to win the coveted title. Arne Stroem captured the World Cup twice, in 1977 and 1982; Tore Torgersen won seven years ago in Hermosillo, Mexico.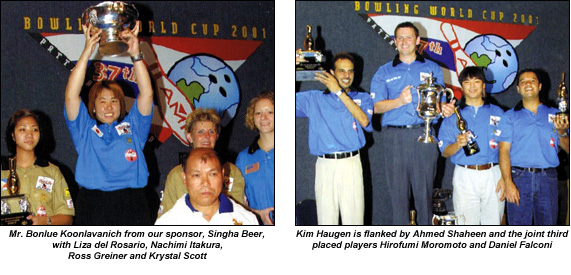 Haugen, a 22-year-old bowling center manager from Evje, also was the first person, male or female, to sweep through the arena "knockout" rounds-quarterfinals, semifinals and finals-without losing a single game. The lefthander averaged 237.67 in the arena while dispatching the USA's Scott Norton, 202-200 and 212-182, Japan's Hirofumi Morimoto, 259-232 and 225-223, and Shaheen. He also set new arena standards for single game and two-game match with 290 and 528, respectively. (The old marks were 278 by Belgium's Chris van Damme and 456 by Tomas Leandersson of Sweden.
Itakura became the first Japanese bowler ever to win the Bowling World Cup. The 26-year-old barber shop assistant from Wakayama City similarly rewrote the women's arena record book on her way to victory. Her title-winning two-games-to-none decision over the Philippines' Liza del Rosario, 247-224 and 257-224, yielded a 504 series that erased the previous record for a two-game arena match by a woman (441, held by Clara Juliana Guerrero of Colombia).
Itakura's three-game series of 708 in her semifinal match with Ross Greiner of the Netherlands (258-224, 223-226 and 227-205) also obliterated Guerrero's 576 mark in that category. Furthermore, the righthander's triumph combined with the semifinal finish of her countryman, Hirofumi Morimoto, to give Japan its first Bent Petersen Trophy for best country performance.
Shaheen's three-game series of 699 in his 2-1 semifinal match with Daniel Falconi of Mexico (235-244, 205-186, 259-257) established the new men's arena mark for a three-game match, while del Rosario and Greiner tied for the new women's single-game standard in the arena with 269. The previous records were held by van Damme (692) and Guerrero (244), respectively.
Scott Norton of the United States was the only athlete to roll a perfect 300 game during the Nov. 4-10 tournament, becoming the 11th man and 14th person overall in World Cup history to do so.
Included among the "firsts" of the 2001 AMF Bowling World Cup were the first appearance ever among the top 24 players, men or women's divisions, by athletes from Russia and St. Helena. Russia's Sergey Andreev averaged 192.63 to finish 24th in the men's division, while Sian Wood, who represented St. Helena, placed 19th in the women's division. Wood averaged 189.75.
Moving farther up the ladder, Yahav Rabin became the first Israeli bowler to reach the top eight, finishing seventh after 40 games of qualifying with a 214.65 average. He advanced to the quarterfinals, where he fell to Shaheen, 2 games to 0 (216-241 and 237-247).
Eighty-seven countries sent athletes to the 37th AMF Bowling World Cup, eight of them for the first time (Bangladesh, Bulgaria, Cote d'Ivoire, Kazakhstan, Laos, St. Helena, Syria, Vietnam). Eighty seven-men and 61 women took part in the competition at the 32-lane P.S. Bowling Pattaya center.
Click here to see
bowler details
.
Archives
Since the first event in 1965, winning AMF's Bowling World Cup title has been the most coveted goal in amateur bowling. Whether held in the shadows of the Great Pyramids in or under the bright lights of , each tournament has provided unforgettable moments from competition that has spanned five decades.

Browse the archives to discover or revisit these moments, competitors, and the great champions that have made up the rich history of AMF's Bowling World Cup.