By 1969, the International Masters had metamorphosed into the AMF Bowling World Cup. With the Japanese bowling boom just getting underway, it made sense to stage the fifth edition of this now-classic tournament in Tokyo.
West Germany's Fritz Blum was back to defend his title, but he'd been in a terrible automobile accident back home in which his ribs were crushed and his lungs punctured, and it showed. "For two days," he told sportswriters, "I was playing with the angels." Understandably, Blum bowed out early, making way for a new array of would-be contenders.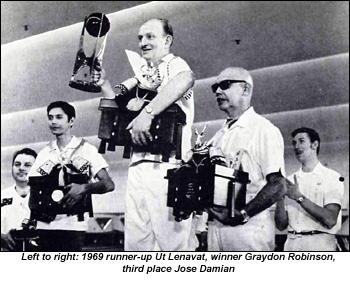 Thailand's Ut Lenevat averaged 208 for the closing two days of the first Bowling World Cup, marking the emergence of Asian bowlers as a force in international bowling. As silky and deadly as his style was, however, the title went to Canada's Graydon "Blondie" Robinson, a 41-year-old sheet metal worker who edged Lenevat 379- 373 in the last two games. Two easy, missed spares in the second game of the matchup cost Lenevat dearly, because "Blondie" was busy stringing a five-bagger at the same time.

The first staging of the tournament in Asia signaled the world that bowling, and particularly the Bowling World Cup, meant to make itself a name in the international sports movement.
Archives
Since the first event in 1965, winning AMF's Bowling World Cup title has been the most coveted goal in amateur bowling. Whether held in the shadows of the Great Pyramids in or under the bright lights of , each tournament has provided unforgettable moments from competition that has spanned five decades.

Browse the archives to discover or revisit these moments, competitors, and the great champions that have made up the rich history of AMF's Bowling World Cup.