The 1966 International Masters was staged in the grounds of world-famous Wembley Stadium, at Wembley Stadium Bowl. The location ignited tremendous media interest, with reporters checking in from countries as far apart as Hong Kong and Mexico. British Minister of Sport Dennis Howell lent his presence to the opening ceremonies, and U.S. pro Dick Weber opened the proceedings with one of his inimitable shot-making exhibitions.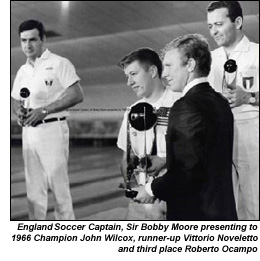 Twenty-four nations were represented in 1996. Joe Velo, an elderly Australian with a wrong-foot delivery and a salty sense of humor, had just rolled the first-ever perfect game Down Under and was the darling of the press corps that year. But it was a 19-year-old American named John Wilcox, later elected to the American Bowling Congress's Hall of Fame, who stole the show in London. The Williamsport, Pa., native put 241 pins between himself and returnee Vittorio Noveletto going into the final two-game match. Though Noveletto defeated Wilcox in those final two games, 233-181 and 202-167, he still fell 54 pins short. Defending champion Lauri Ajanto finished 17th.
As a fitting final touch, the late Bobby Moore, captain of the English football team that won the FIFA World Cup in 1966, presented the Bowling World
Archives
Since the first event in 1965, winning AMF's Bowling World Cup title has been the most coveted goal in amateur bowling. Whether held in the shadows of the Great Pyramids in or under the bright lights of , each tournament has provided unforgettable moments from competition that has spanned five decades.

Browse the archives to discover or revisit these moments, competitors, and the great champions that have made up the rich history of AMF's Bowling World Cup.