2015

Las Vegas, United States
November 13-20
11/18/2015
Top eight now decided
The top 24 men and women both bowled a further eight games in the 51st QubicaAMF Bowling World Cup at Sam's Town, Las Vegas this morning.

In the women's section, the lead changed back and forth during the eight games for the top 24 women and in the end it was defending champion Clara Guerrero of Colombia on top with 6901.
The real excitement came in the 31
st
game when Keira Ray of England shot the tournament's first 300 game. She was lying in 10
th
before this game and said: "I really needed that!" It hauled her up into 9
th
place, 16 pins off the cut and still needing to do more to make the top eight. But she did not manage it, finishing in 9
th
place.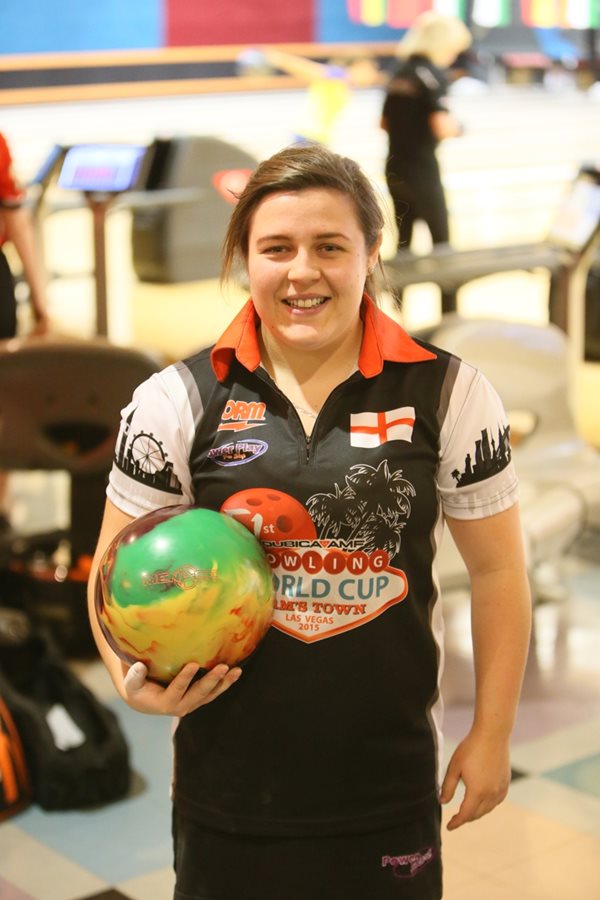 By the middle of the final game it was clear that the top eight going into this game would remain there, but the order was yet to be determined. The final scores were:
1.       Clara Guerrero                  Colombia             6901
2.       Sandra Gongoro                 Mexico                6874
3.       Shannon Pluhowsky            USA                   6869
4.       Maria Bulanova                  Russia                6854
5.       Isabelle Hultin                  Sweden              6715
6.       Geraldine Ng Su Yi            Singapore            6681
7.       Siti Safiyah Amirah            Malaysia              6673
8.       Sanna Pasanen                 Finland                6646  
The men's section produced some good scoring. Francois Louw of South Africa bowled supremely and increased his lead, hitting 1779 and finishing on 7130, a 222.81 average, over 100 ahead of second-placed Siu Hon Wu of Hong Kong. Paul Stott Jr of Ireland just kept plugging away, bowling very consistently for a 1773 and finishing in third.  But high set of the day was an excellent 1950 by Muhammad Rafiq Ismail of Malaysia, bringing him up from 23
rd
all the way into the top eight.
With one game to go, four or five men were in with a shot of making the cut. Markus Jansson of Sweden was the one to miss out, finishing in 9
th
, 16 pins light, with Tomoyuki Sasaki of Japan going through.  Kamron Doyle of the USA had a bad day, starting the day in second but dropping down the standings and finishing in 12th.
Final top eight are:
1.       Francois Louw                           South Africa          7130
2.       Siu Hong Wu                             Hong Kong             6991
3.       Paul Stott Jr                            Ireland                  6903
4.       Alexei Parshukov                      Russia                    6847
5.       Muhammad Rafiq Ismail             Malaysia                 6834      
6.       Muhammad Jaris Goh                Singapore               6813
7.       Ryan Leonard Lalisang               Indonesia               6809
8.       Tomoyuki Sasaki                       Japan                    6808  
The tournament now turns to the round robin with the head to head round, finishing with a position round. With 30 bonus pins for a win, the field is still wide open.
At this stage there are still three countries players in both the men's and women's top eight and hence in with a chance of winning the trophy for top country: Russia, Malaysia and Singapore.
Live streaming is increasingly popular as the tournament gets to the sharp end and nearly 1200 people tuned in during the course of this morning's play.
https://www.facebook.com/QubicaAMFWorldCup/photos_stream
Ends