2015

Las Vegas, United States
November 13-20
11/15/2015
QubicaAMF Bowling World Cup gets under way
The 51st QubicaAMF Bowling World Cup got under way this evening in Sam's Town, Las Vegas, USA, with an impressive opening ceremony.
An introduction from a Dixieland band set the tone then all the participating countries marched into the theatre in order and were greeted by our VIPs: Martin Faba, President, Pan American Bowling Federation, and Emanuele Govoni, Chief Executive Officer of QubicaAMF.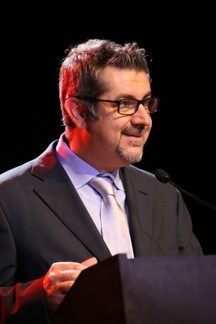 Bowlers include the defending champion in the women's section, Clara Guerrero of Colombia, as well as three other women who have won the trophy in the past – Shannon Pluhowsky of the USA (2002 and 2004), Kerry Ryan-Ciach of Canada (2003) and Aumi Guerra of the Dominican Republic (2010 and 2011). And Macedonia will be competing for the very first time.
John Sou, Vice President, General Manager, Sam's Town Hotel and Gambling Hall, welcomed everyone to Las Vegas and the facilities of Sam's Town, before Martin Faba wished everyone good luck. It was up to Emanuele Govoni to speak to the champions of every country and say: "Let the games begin!"
The oaths of fair play and fair judging were taken and the party began with players and official guests enjoying a reception and typical Las Vegas hospitality.
Anne-Marie Board, Bowling World Cup Manager, commented: "I am so pleased to see so many bowlers here, old friends and new. We have 88 countries competing this year and I would particularly like to welcome our returning champions and our newcomer nation. No woman has ever won the event three times so I am sure the competition will be great. And we know we will have a new name on the men's trophy come Thursday evening."
The competition gets under way tomorrow (Sunday) with all the players bowling their first set of eight games.
Results will be updated throughout the tournament on the WORLD CUP website: www.qubicaamf.com
Fans around the world will again be able to get all the results and follow the scores online during the tournament by going to www.qubicaamf.com and clicking on the online scoring logo.
Stay up-to-date and follow all of this year's tournament action, LIVE – On Facebook, Twitter, the official QubicaAMF website, with Live Streaming and Live On-Line Scoring. This year bowlers, coaches, friends and family—even those that cannot be there in person—will be able to follow the QubicaAMF Bowling World Cup tournament action live in more ways than ever before.
Live streaming will be back for this year's tournament. We'll cover a pair of lanes showcasing bowlers as they move across the lanes and have live commentary, including interviews with bowlers and coaches. Follow the entire Bowling World Cup event LIVE on BowlTV @ http://www.youtube.com/user/BowlTV.
In addition, you can keep up with your favourite bowler's scores live, on-line. See how they are bowling and their pinfall, frame-by-frame, as it's happening. Once the tournament starts, go to http://onlinescore.qubicaamf.com/World-Cup. Be sure to add this address to your 'Favourites' so you easily access it throughout the week.
You will also be able to stay up-to-date on all official Bowling World Cup news, results, qualifying rounds, social events and more through Facebook and https://twitter.com/BowlingWorldCup You'll know what happens as it happens including high scores, country match-ups, daily highlights and World Cup staff comments. 'Follow' us on Twitter @QubicaAMF and be sure to 'Like' us on Facebook at https://www.facebook.com/QubicaAMFWorldCup. The official hashtag of the event is #51BWC
If you would like to have the latest scores emailed to you after each game, then simply send an email to BWCResults@QubicaAMF and you'll be added to the distribution list. Don't forget to add us to your 'Safe List'.
Full results can be downloaded at the end of the tournament details to follow.