2015

Las Vegas, United States
November 13-20
07/22/2015
Kerrie Ryan-Ciach and Jean-Francois Gorley will represent Canada at the 51st QubicaAMF Bowling World Cup
Winner of the 2003 Kerrie Ryan-Ciach and first-timer Jean-Francois Gorley will be representing Canada in Las Vegas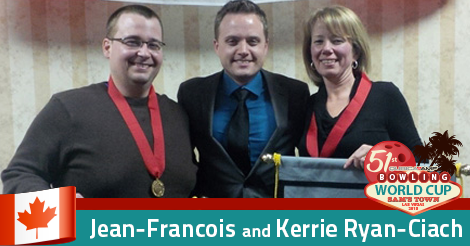 Winner of the 2003 and runner-up in 2004, 44 year old Kerrie Ryan-Ciach will be representing Canada in the women's division of the 51
st
QubicaAMF Bowling World Cup.
Kerrie said after her win 12 years ago "I was so focused I didn't realise I was in the last game until the 10
th
frame!"           
First-timer Jean-Francois Gorley  will be representing Canada in the men's division.
Jean-Francois beat two-times world cup champ Michael Schmidt in the stepladder finals to earn his place in Las Vegas.
33 year old Jean-Francois currently holds a league average of 232 and a high 3-game series of 858.