2015

Las Vegas, United States
November 13-20
08/11/2015
Clara returns to defend the title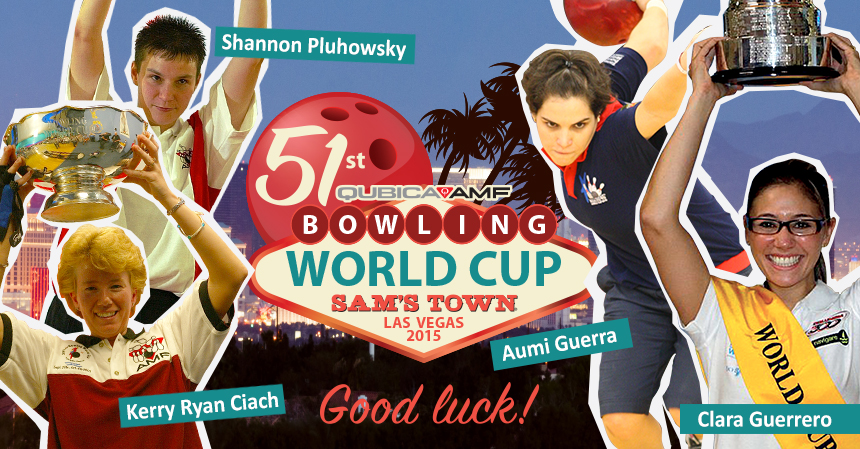 Clara Guerrero from Colombia will be in Las Vegas to defend the QubicaAMF Bowling World Cup title she won in such style last year in Wroclaw, Poland. But she will be up against a further three former champions.
The Dominican Republic will again be sending Aumi Guerra who won back to back titles in 2010 (Toulon, France) and 2011 (Johannesburg, South Africa). Shannon Pluhowsky will be representing the USA and she too is a double champion, having won in 2002 in Riga, Latvia and in 2004 in Singapore. And in 2003, in Tegucigalpa, Honduras, the title went to Kerry Ryan-Ciach of Canada who will also be coming to Las Vegas.
Between them, these four champions have a great World Cup record. Kerrie came runner up to Shannon in 2004 while Shannon was runner up to Kerrie in 2003. Clara was runner up in 2000, and Aumi was runner up in 2012 and third in 2013.
Four women have won the title twice (Shannon and Aumi, plus Pauline Buck-Smith from Great Britain and Jeanette Baker from Australia). Only two, Aumi and Jeanette have won back to back titles, a feat no man has yet achieved. No woman has ever won three times.
So there will be plenty for all these winners to aim for!
Anne-Marie Board, QubicaAMF Bowling World Cup Manager, said: "It promises to be an exciting tournament, especially for these four champions. Clara wowed everyone last year and I am sure she will be giving it everything to win again. But Aumi, Shannon and Kerrie will all be aiming to win again and that's not to mention all the other players who will be looking to win for the first time.

At the moment we are expecting in excess of 90 countries to be taking part, though no returning men's champion – yet! Several countries are still determining their representative".

In addition to the champions returning, there are two players coming back who have won the 'Sportsman of the Tournament' award, voted for by all the players. Nasheeha King of Mauritius won that title in 2006 while Janet Shaikh from Pakistan won in 2013.