Bowling World Cup History
Bowling World Cup History
The QubicaAMF Bowling World Cup is the most prestigious amateur singles event within the sport of bowling and is the largest annual international sports championship in terms of participating nations. The event brings together the champions of the world so that players from small countries with few bowling facilities rub shoulders with the greats of the sport, all on equal terms and all in a spirit of friendly competition. And, even though only one man and one woman can be crowned as World Champions, just the chance to take part in this weeklong event is, for most, a once in a lifetime opportunity.
Heads of state, members of royal families, government ministers, media personalities and renowned sportspeople have all been to the tournament and even tried their hands at bowling. Strong competition each year from potential hosts makes the selection of venue very tough – a state-of-the-art QubicaAMF bowling centre and good local backing are a must.
It all started in 1965, in Dublin, Ireland. 20 bowlers, all men, arrived to take part in what was then called the International Masters, soon to become the AMF, then the QubicaAMF Bowling World Cup. Since then, we have visited every continent, 38 different cities in 30 different countries, and over 90 countries take part. The first visit to the continent of Africa was in 1993 when we came to Johannesburg in the new rainbow nation of South Africa. Now, in 2011, the 47th tournament is back in Johannesburg. Women first competed in 1972, in Hamburg, Germany. Paeng Nepomoceno of the Philippines has recorded the greatest number of titles with four. Only one bowler has won back-to-back titles and that was Jeanette Baker of Australia. Unusually, both champions from last year will be in Johannesburg to defend their titles: Michael Schmidt of Canada and Aumi Guerra of the Dominican Republic.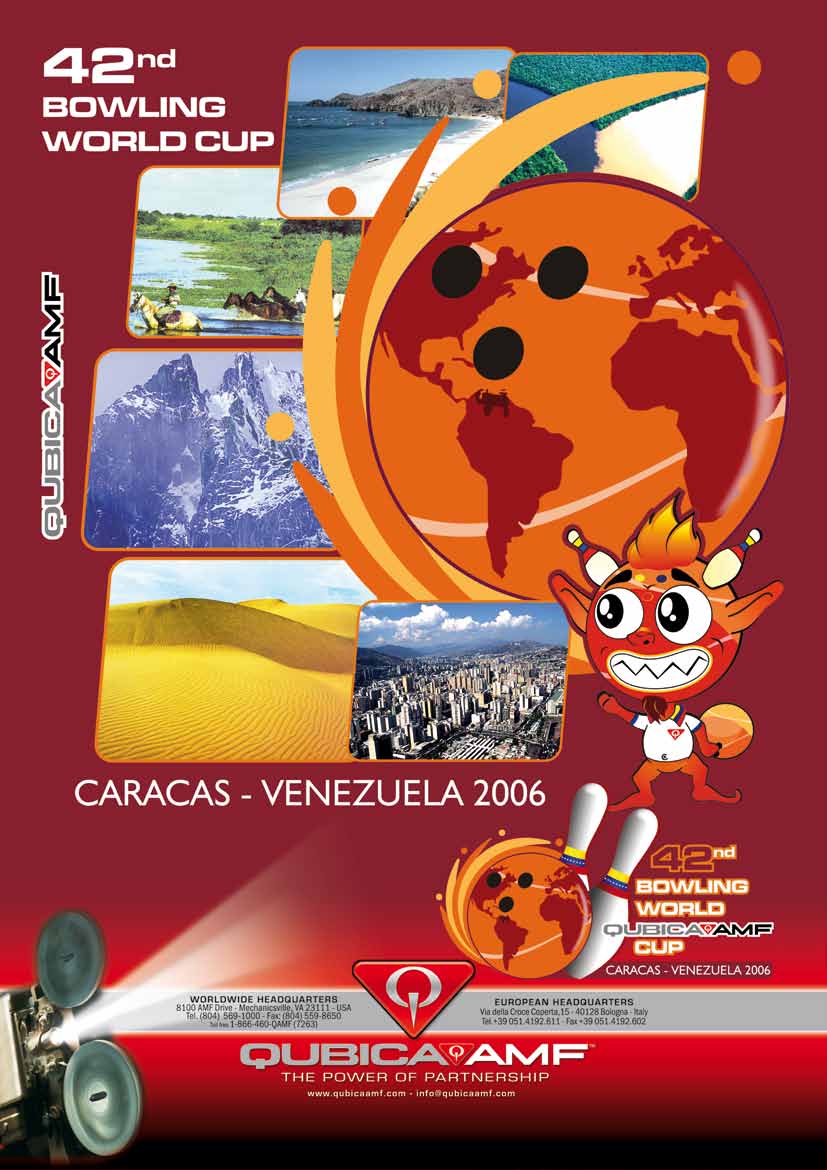 Gallery
Archives
Since the first event in 1965, winning AMF's Bowling World Cup title has been the most coveted goal in amateur bowling. Browse the archives to discover or revisit these moments, competitors, and the great champions that have made up the rich history of AMF's Bowling World Cup.
We are pleased to announce this year's official tournament hotel is the 5-star Radisson Hotel Eurobuilding, Final Calle La Guairita, Chuao Caracas, Venezuela,
Telephone:+58 212 902-1111
Fax: +58 212 902-2189
www.radisson.com/caracasve
ALL RESERVATIONS MUST BE MADE THROUGH THE WORLD CUP OFFICE.
The rates are in US Dollars ($) and are per room per night and include full breakfast and tax; tickets to the Welcome Reception, Victory Banquet; admission to the bowling centre.
There will also be complimentary transport to and from the bowling centre and airport.
Guests staying at other hotels will be charged admission fees to the above.
Bowler sharing with another bowler NO CHARGE
Bowler single room supplement $75
Bowler sharing with own guest supplement $85
Non-bowler: Single room $150
Non-bowler: Double room $170
Executive Room: $210 
PLEASE NOTE
: Bowler's accommodation is only paid by the local host during the tournament period: arrival 3rd November and departure 11th November 2006 – 8 nights.
All guests must supply credit card details to guarantee their hotel accommodation. Bowlers staying outside the tournament period must also guarantee extra nights with a valid credit card.
Hotel requirements must be specified on the accommodation form and returned to the Bowling World Cup Office no later than 8th September 2006.
Please don't hesitate to contact me if you have any questions and I look forward to seeing you in Caracas, Venezuela for the 42nd QubicaAMF Bowling World Cup.
Best regards
Anne-Marie Board,
QubicaAMF Bowling World Cup Manager
2 Cleveland Way, Hemel Hempstead, Herts., HP2 7DY, UK
Tel: +44 1442 286515,
Mobile: +44 777 179 6660,
Fax: +44 1442 286530
Email:
amboard@qubicaamf.nl