2012

Wroclaw, Poland
24th November - 2nd December 2012
12/01/2012
Shayna and Syafiq take titles for Singapore and Malaysia - 2012 QubicaAMF Bowling World Cup, Wroclaw, Poland
Shayna Ng of Singapore and Syafiq Rhidwan Abdul Malek of Malaysia are the QubicaAMF Bowling World Cup champions for 2012 after a stunning display in the stepladder finals, held in the Sky Bowling Centre in Wroclaw, Poland.  Shayna first had to overcome England's Kirsten Penny in the semi-final, which she did by 2 games to nil, 246 to 215 and 221 to 191. She moved on to play Aumi Guerra of the Dominican Republic, trying to win the title for a record third time in a row.  Aumi started like a train, winning the first game 269 to 224, but Shayna came back to win and amazing second game by 267 to 259. So a third game was needed and two big splits put Aumi at a big disadvantage. By the 9th frame it was all over and Shayna took the third game 247 to 169. Her set of 738 is a new arena record, beating the Philippines' Lisa del Rosario's 737 set in 2001.
Shayna is studying for a sports science degree, and is coached by Remy Ong who himself has an impressive Bowling World Cup record, having competed five times with a best placing of 2nd in 2002. Shayna said: "I had to fight my way up from third but it did mean that I got used to the lanes for the finals and Remy really helped me make lots of adjustments, so many that I had to write them down to remember them. It has been a great experience working with Remy. This is my first world title and I'm a record holder as well!"
The men's first match saw Syafiq beat Andres Gomez of Colombia in three games. Andres won the first game 236 to 234 but Syafiq came back with 224 and 258 to Andres' 201 and 213.
Syafiq moved on to play Marshall Kent of the USA for the title. He bowled steadily and won by 2 games to nil, 236 and 237 against 225 and 221.  He said afterwards: "I think I was lucky to play on the championship lanes first. I learnt how to play the lanes and I got better carry in the final match.  It is such an honour for me and my country as I am the first Malaysian player to win this wonderful tournament." His win actually means that Malaysia and the USA are tied for top country but the trophy goes to Malaysia as one of their players won the title.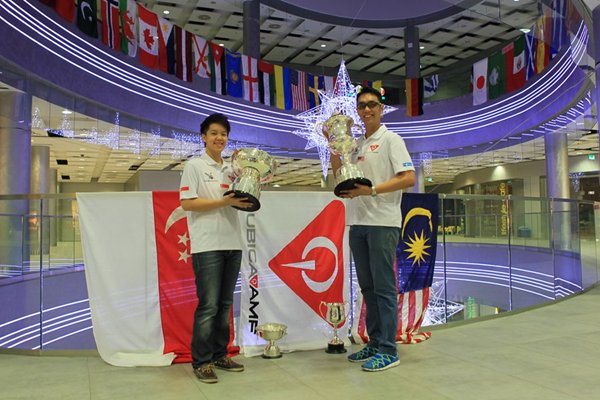 Shayna and Syafiq take titles for Singapore and Malaysia - 2012 QubicaAMF Bowling World Cup, Wroclaw, Poland