2011

Johannesburg, South Africa
30th November - 7th December 2011 - 47th Bowling World Cup
12/03/2011
Aumi does it again!
1304 over her five games.
Aumi Guerra broke the five game block record last night – and proceeded to break her own new record this afternoon (2nd December) when she hit 1304 over her five games. Her individual games were 278, 234, 267, 246, 279.
And that 1304 is only 3 pins shy of the men's record – 1307 held by Ahmed Shaheen of Qatar.

Aumi  is now on 3721, a 248 average and 299 pins ahead of second placed Diandra Asbaty of the USA who herself hit 1166 today. Cherie Shi Hua Tan of Singapore is in 3rd on 3417 (1127 today) with Liza Clutario from the Philippines  in 4th on 3324.

Other 1100+ scores came from Sweden's Sandra Andersson (1168) and Evgeniya Zelenkova of Russia with 1140. Evgeniya pulled herself up into the top eight with that score.
Aumi said afterwards: "I cannot believe it! I am playing better than last year but really I am just happy to be here." Even her coach, Craig Woodhouse was at a loss for words, just saying "Unbelievable! Unbelievable!"

The women now have just five games to go before the cut to the top 24. The cut is a 199.8 average, Rie Totsuka of Japan, but Luz Adriana Leal of Catalonia is only 13 pins behind.
23 women are averaging over 200 and the overall average for all 70 competitors in the women's section is 189. And despite all the high scores, Samy-Anna Saba's 288 still remains as the high game of the tournament.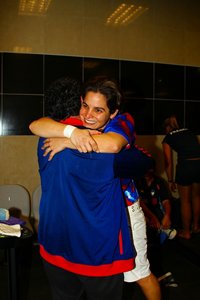 Photo shows Manuel Arturo Ferandes Febles, the male bowler for the Dominican Republic, hugging Aumi after her latest record breaking set.