The new AMF Bowling World Cup champions, Shannon Pluhowsky of the USA and Mika Luoto of Finland, chose different paths to arrive at the same destination during the 38th edition of the championship, which concluded October 26 in Riga, Latvia.
Pluhowsky, a 20-year-old University of Nebraska junior, dominated the women's competition at host center Toss Boulinga Halle. The Phoenix resident led wire-to-wire, averaging 232.31 in qualifying with a single-game high of 299 to snare the No. 1 seed for the quarterfinals. By comparison, No. 2 seed Wendy Chai of Malaysia posted a 220.38 average for the 32-game qualifying phase.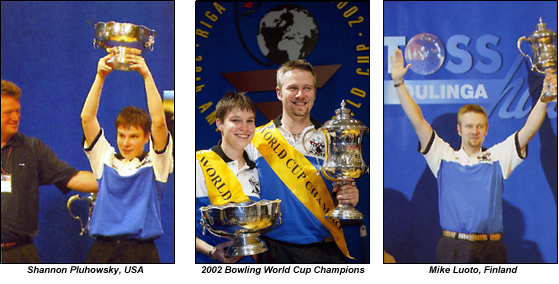 As No. 1 seed, Pluhowsky lost just one game in her best-of-three, head-to-head quarterfinal, semifinal and championship matches to become the first U.S. woman in 12 years to win the Bowling World Cup. Pluhowsky defeated Mexico's Teresa Piccini, 2 games to 0 (183-177, 221-206), Pascale Moynot of France, 2 games to 1 (204-176, 221-253, 225-211) and Nikki Harvey of England, 2 games to 0 (224-165, 202-183).
Pluhowsky is also the first U.S. player to win since Pat Healey Jr. took the men's title in 1995. "I'm excited that I won for my country," Pluhowsky said. "But I wasn't really thinking about that. I just tried to take this tournament one round at a time."
Luoto, a 33-year-old bowling center owner from Hyvinkaa, relied on being in the right place at the right time to take the men's prize. Outscoring the Philippines' Christian Jan Suarez by just two pins to gain the No. 8 seed in the men's quarterfinals, Luoto dispatched all his opponents -- top-seeded Paul Trotter of Australia, Talal Towereb of Saudi Arabia, and Asian Games triple gold medallist Remy Ong of Singapore -- by identical 2-0 scores. Luoto is the second No. 8 seed to go all the way to the top of the podium; last year, Kim Haugen of Norway entered the quarterfinals as the eighth seed and won.
"Luck was with me each round," Luoto acknowledged after eliminating Ong in the championship match, 232-216 and 279-222. He defeated Trotter, who rolled one of the tournament's four perfect games, by scores of 215-160 and 244-222, while Towereb fell 211-188 and 244-191. Luoto, who averaged 225.84 in qualifying, is the third Finn to capture the Bowling World Cup; the last was Tom Hahl, in 1990.
Pluhowsky and U.S. teammate Andrew Cain, who finished tied for third in the men's division, won Best Country honors for their combined performance and the Bent Petersen Trophy that symbolizes the achievement.
Trotter's 300, followed by games of 298 and 298, set a tournament record for high three-game series of 896. Three other bowlers -- Kai Guenther of Germany, Wayne Greenall of England and Lisa Paluzzi of South Africa -- also rolled perfect games during the tournament; Paluzzi's 300 game was the first of her career.
Amanda Bradley of Australia, who won the women's 1999 Bowling World Cup crown, set the new mark for women's high single game in the head-to-head rounds. Bradley rolled a 278 in her semifinal-round loss to Harvey.
Singapore's Ong posted a 699 three-game series while defeating Cain in the semifinals, tying the record established last year by Ahmed Shaheen of Qatar.
Saudi Arabia's Towereb turned in the best World Cup performance ever by a bowler from his country, finishing in a tie for third place with Cain. Towereb earned the No. 6 seed by averaging 227.09 in the 32-game qualifying phase. He defeated England's Greenall 2 games to 0 (224-181, 206-204) before bowing to Luoto in the semifinals.
Five countries -- Cape Verde, Moldova, Romania, Czech Republic and Uzbekistan -- made their Bowling World Cup debuts in Riga, and 85 countries were represented in total (83 men, 72 women).
Matchroom Productions of England (www.matchroomsport.com) coordinated the TV production of the 2002 AMF Bowling World Cup and will distribute a tape-delayed broadcast series on a worldwide basis. Schedules and networks will be announced later.
Click here to see
bowlers listing
.
Archives
Since the first event in 1965, winning AMF's Bowling World Cup title has been the most coveted goal in amateur bowling. Whether held in the shadows of the Great Pyramids in or under the bright lights of , each tournament has provided unforgettable moments from competition that has spanned five decades.

Browse the archives to discover or revisit these moments, competitors, and the great champions that have made up the rich history of AMF's Bowling World Cup.