The AMF Bowling World Cup has enjoyed some sensational opening ceremonies during its 34 years, but nothing could possibly match the show in Kobe. A long parade of floats, called danjiri and carried aloft by dozens of people, drifted between Kobe's gleaming high rises. The people of Nada Ward, the neighborhood in which Grand Rokko Bowl resides, threw a huge outdoor "block party" to greet the bowlers. The Kobe Volunteer Fire Department belted out American march tunes.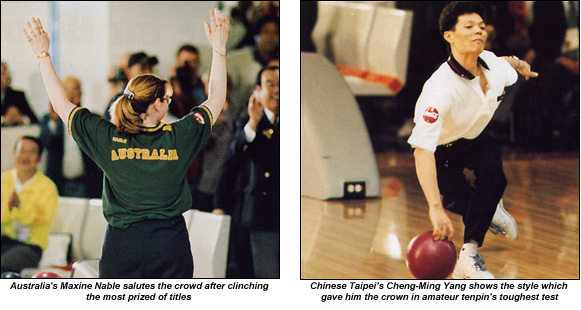 And AMF's executive vice president Bent Petersen broke open a big barrel of sake with an over-sized mallet, the traditional way to start a Japanese party.
Sixty-eight nations sent their best to Kobe, an impressive feat in view of the financial and monetary crisis that had so recently swept throughout Asia. When spinner Cheng-Ming Yang, the reigning FIQ World Masters champion, signed in, traditional shooters knew they had a battle on their hands. Sure enough, the 34-year-old Yang led throughout the tournament with a 214 average and then cruised to a 233-152 victory over Mexico's Mario Quintero. Maxine Nable, a 21-year-old medical office receptionist from Sydney, Australia, defeated defending champion Su-Fen Tseng of Taipei in a much more dramatic 235-231 showdown.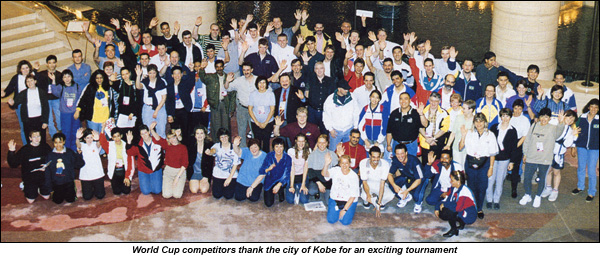 1998 was also the year that AMF bid a fond farewell to Bent Petersen who retired after 34 years with the company. Petersen joined the company in 1962 as a financial controller in Scandinavia and spent more than a decade in Japan before head up AMF's International operations.
Click here to see
bowler details
.
Archives
Since the first event in 1965, winning AMF's Bowling World Cup title has been the most coveted goal in amateur bowling. Whether held in the shadows of the Great Pyramids in or under the bright lights of , each tournament has provided unforgettable moments from competition that has spanned five decades.

Browse the archives to discover or revisit these moments, competitors, and the great champions that have made up the rich history of AMF's Bowling World Cup.