The first AMF Bowling World Cup staged in the Middle East racked up a lot of other "firsts": the first perfect game in the World Cup by a woman (Malaysia's Shalin Zulkifli), the first World Cup to feature actor Omar Sharif in the opening ceremonies, the first World Cup to attract contestants from more than 80 nations (83, actually) and, finally, the first World Cup in which the finals were staged out-of-doors.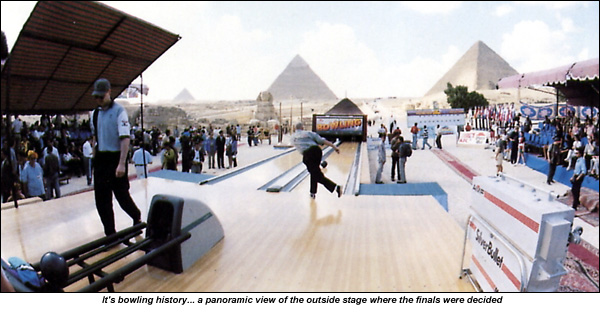 The setting for the finale could only be described as incredible. Two lanes were built about three feet off the desert floor, positioned so that the players faced the Great Pyramid of Giza and the Great Sphinx while bowling. Though a canopy provided some relief from the sun, the breeze constantly blew sand onto the synthetic surface. "It's the first time I've seen a brown track on a ball," said Israel's Len Charney.
Despite these formidable distractions, and the intense security presence necessitated by the Luxor tourist massacre that occurred earlier that week, the bowlers performed admirably. Germany's Christian Nokel, bedecked in baseball cap and sunglasses, beat Gery Verbruggen of Belgium, 212-178, and then edged Taiwanese "helicopter pilot" Yung-Nein Peng, 210-200, to win the men's title. Korea's Lee Ji-Soon dropped Zulkifli in the women's opener, 203-190, but then lost the crown to Su-Fen Tseng, another spinner from Taipei, 236-225.
The Minister of Education Baha El-Din awarded the winners' trophies while a marching band in togas played triumphantly in the background.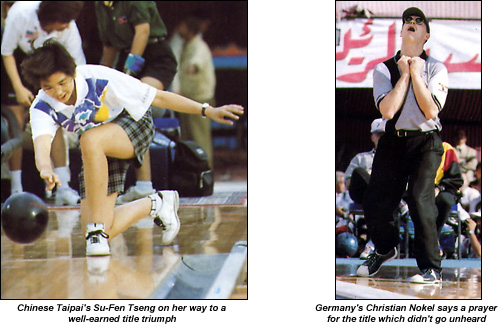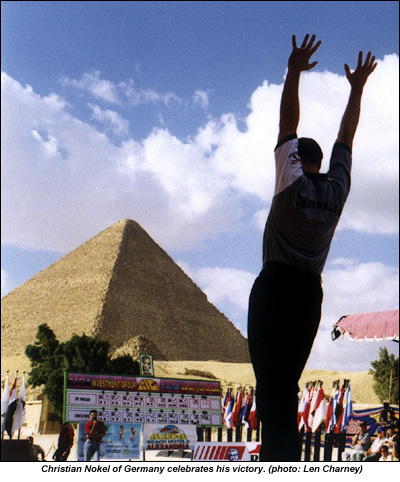 Archives
Since the first event in 1965, winning AMF's Bowling World Cup title has been the most coveted goal in amateur bowling. Whether held in the shadows of the Great Pyramids in or under the bright lights of , each tournament has provided unforgettable moments from competition that has spanned five decades.

Browse the archives to discover or revisit these moments, competitors, and the great champions that have made up the rich history of AMF's Bowling World Cup.