1996
Belfast, Northen Ireland
Bowling champions from 71 countries gathered somewhat cautiously at Dundonald's Ice Bowl for the 32nd AMF Bowling World Cup, the sectarian violence that had plagued Northern Ireland for generations not far from their minds. But thanks to tight security, both visible and undercover, there wasn't a hint of unpleasantness at Northern Ireland's first international sports championship of any kind.
Instead, contestants freely explored the host city's quaint pubs, climbed the steps of ancient Belfast Castle and savored the salt air at the seaside town of Bangor. Qatar's Khalid Mohamed Al-Sada even laced up some ice skates and took an unaccustomed spin on the ice rink housed in the Dundonald complex, and bowlers from the Middle East revelled in their first-ever snowfall.
While the weather was frosty, scoring was decidedly torrid, especially for a couple of lefthanders from the other side of the world. Cara Honeychurch, a treasury analyst from Melbourne, Australia, placed third in the women's qualifying but was unstoppable in the stepladder finals. She dispatched defending champion Gemma Burden, 1992 champion Martina Beckel, and then Malaysian phenomenon, Shalin Zulkifi, possibly the most-hyped young bowler on the international scene. But Honeychurch, who has won her share of medals in Asia, was obviously unimpressed. She reeled off a 253 to Zulkifli's 204, making her three-game total an overwhelming 761.
Paeng Nepomuceno had been experiencing severe pain in his bowling wrist for months prior to Belfast, and it didn't seem likely that he could endure the strain of the weeklong BWC format. However, he managed to nail the top seed in the stepladder format by averaging 218 in the match play phase, better than eight pins more than runner-up Drew Hylen. Hylen earned a final crack at Paeng when he defeated Australia's Carl Bottemley in the penultimate match, 201-179, but he wilted in the title game while Paeng captured his fourth World Cup crown, 243-172.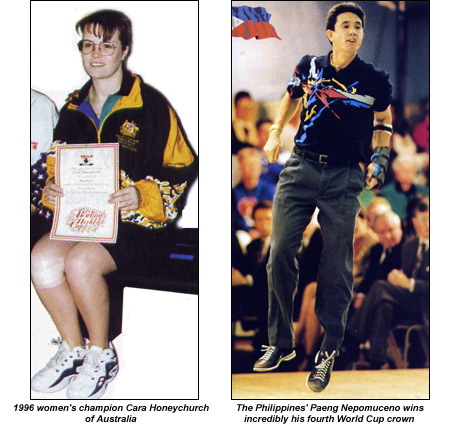 Archives
Since the first event in 1965, winning AMF's Bowling World Cup title has been the most coveted goal in amateur bowling. Whether held in the shadows of the Great Pyramids in or under the bright lights of , each tournament has provided unforgettable moments from competition that has spanned five decades.

Browse the archives to discover or revisit these moments, competitors, and the great champions that have made up the rich history of AMF's Bowling World Cup.