For many years, Fernando Gutierrez was the best bowler in this city of 800,000 in northwest Mexico. Whenever he went to the U.S. for business or on holiday, he visited every bowling center he could find. He finally decided to build his own center in his hometown, a beautiful edifice called Bol Satelite that would become the venue for the 30th AMF Bowling World Cup.
The 1994 AMF Bowling World Cup was marked with sadness, as both the mother of tournament director Bernard Gibbons and the founder of the tournament, Vic Kalman, died that week. But it spawned unparalleled joy, as well, when colorful Canadian Jack Guay rolled the first perfect game in the tournament's history. Dutch star Annemiek van den Boogaart put up the new women's single-game mark, as well: 280.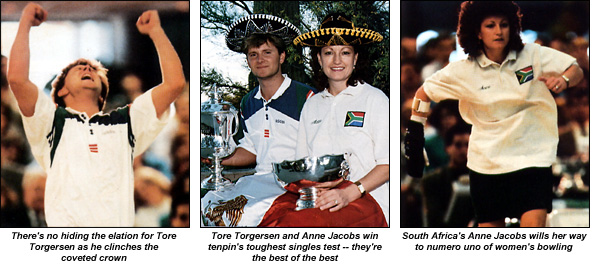 The surprise of the women's field that year was South African Anne Jacobs. The 40-year-old Johannesburg housewife not only won the qualifying round but also took the title by ousting former champion Lucy Giovinco, 226 to 206. Jacobs was the first South African athlete to win an international sports champion following the collapse of apartheid in her home country and returned home to ceaseless telephone and television interviews and guest appearances.
The men's title went to Norway's Tore Torgersen, who nipped 1988 champion Mohammed Khalifa Al-Qubaisi in the finale, 217 - 215.
Click here to see
bowler details
.
Archives
Since the first event in 1965, winning AMF's Bowling World Cup title has been the most coveted goal in amateur bowling. Whether held in the shadows of the Great Pyramids in or under the bright lights of , each tournament has provided unforgettable moments from competition that has spanned five decades.

Browse the archives to discover or revisit these moments, competitors, and the great champions that have made up the rich history of AMF's Bowling World Cup.