1993
Johannesburg, South Africa
The opening ceremonies of the first AMF Bowling World Cup to be held on the African continent featured a traditional Zulu welcoming dance, replete with spears and shields. That, however, was the last thing that could be labeled "traditional" about the 29th edition of the tournament.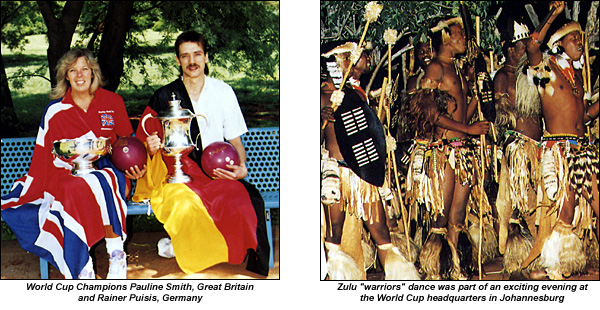 The 1993 AMF Bowling World Cup, held at Gerald Paluzzi's Northcliff Bowl in suburban Johannesburg, featured the World Cup's first "rain delay," when an exceptionally heavy downpour one day caused water to leak onto the lanes. Free-time activities included trips to nearby Sun City (a mini Las Vegas) and game parks, but only if the athletes had taken their precautionary malaria pills well ahead of time. (The U.S.'s Stacy Robards did but had a bad reaction, and she sweated buckets in the closing rounds.) Apartheid was in its death throes and security was tight, with armed police checking ID tags at the center entrance.
None of this affected Pauline Smith, winner of the 1981 BWC in New York City. Smith made a surprising comeback as she plowed through four straight stepladder foes and won her second crown with a 178-177 heart-stopper over Rosalind Greiner, a Dutch national player who had been born in Johannesburg. Nor did it matter to Germany's Rainer Puisis, who qualified second in the men's stepladder. He first ousted Paeng Nepomuceno, 227-174, and then devastated Sweden's Tomas Leandersson in the clincher, 258-184.
Click here to see
bowler details
.
Archives
Since the first event in 1965, winning AMF's Bowling World Cup title has been the most coveted goal in amateur bowling. Whether held in the shadows of the Great Pyramids in or under the bright lights of , each tournament has provided unforgettable moments from competition that has spanned five decades.

Browse the archives to discover or revisit these moments, competitors, and the great champions that have made up the rich history of AMF's Bowling World Cup.