This balmy, exotic resort town on the Gulf of Siam was also the site of the World Cup's biggest controversy, and possibly its greatest international news break.
The seeds had been sown several months earlier, when a mild-mannered electronics salesman named Guy Merhavy won Israel's national qualifying tournament. No Israeli had ever done very well in the international finals of the AMF Bowling World Cup, but Merhavy managed to advance to match play.
The bowlers from predominantly Muslim countries not only were amazed by Merhavy's performance, they were angered and frightened. They announced that they were going to withdraw from the tournament.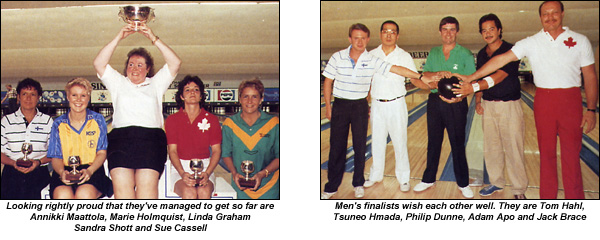 "The government will close down our [bowling] federation if we bowl head-to-head matches with the Israeli," said Qatar's Salem Al Monsouri, the defending champion. Mohammed Khalifa Al-Qubaisi of the United Arab Emirates, Sharif Mahmood of Bahrain, Rahman Yahya of Malaysia and Liu Joe Liang of Indonesia expressed similar sentiments. Eventually, three bowlers-Al-Monsuri, Khalifa and Mahmood did withdraw from the tournament.
This turned well for Ireland's Philip Dunne, Mexico's Carlos Denot and Singapore's Sam Goh. The Arab withdrawals rescued them from elimination. The situation also generated far more coverage than the tournament had ever enjoyed before.
Merhavy eventually placed 13th, and Dunne, one of the last-minute replacements, advanced to the stepladder and finished fourth. Hawaiian Adam Apo was the only man to average 200 for the tournament, but he tied Finland's Tom Hahl in the title game 190-190.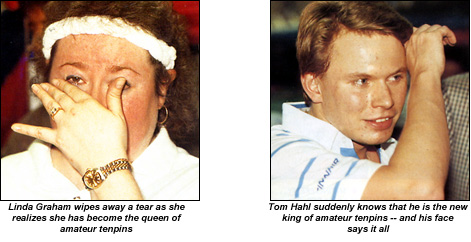 Hahl, then a Helsinki pro shop owner, won the two-frame rolloff, 48-39. He has since settled in Singapore, where he has a thriving career teaching bowling to European businesspeople living abroad in that country.
Despite suffering a painful knee injury, Linda Graham made it three in a row for American women by defeating Sweden's Marie Holmqvist, 187-178. Graham's World Cup victory was a key factor in her being elected to the Women's International Bowling Congress Hall of Fame.
Click here to see
bowler details
.
Archives
Since the first event in 1965, winning AMF's Bowling World Cup title has been the most coveted goal in amateur bowling. Whether held in the shadows of the Great Pyramids in or under the bright lights of , each tournament has provided unforgettable moments from competition that has spanned five decades.

Browse the archives to discover or revisit these moments, competitors, and the great champions that have made up the rich history of AMF's Bowling World Cup.