The AMF Bowling World Cup's third visit to Mexico, and its second to Guadalajara, was heralded in spectacular fashion, as horse-drawn carriages paraded the contestants through the city streets on their way to the opening ceremonies at Teatro Delgado. And an unusual pairing of a Swedish coach and Arab protege introduced yet another milestone to the classic event.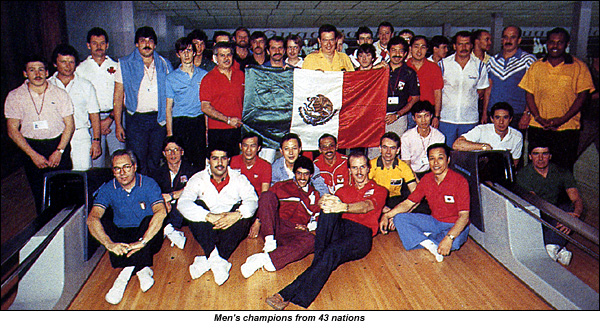 Tony Rosenqvist had enjoyed running his family's bowling center in Malmo, Sweden. But when sports leaders from the United Arab Emirates offered him a huge salary and rent-free apartment to come down and train their bowlers, Rosenqvist headed to Dubai, where he met Mohammed Khalifa Al-Qubaisi. The 22-year-old Khalifa already had a rich bowling background. During his five years of college study in the U.S., he had worked out with several PBA players. Rosenqvist helped refine the raw talent, and Khalifa won the UAE World Cup qualifier and, eventually, the pole position for the Guadalajara finals.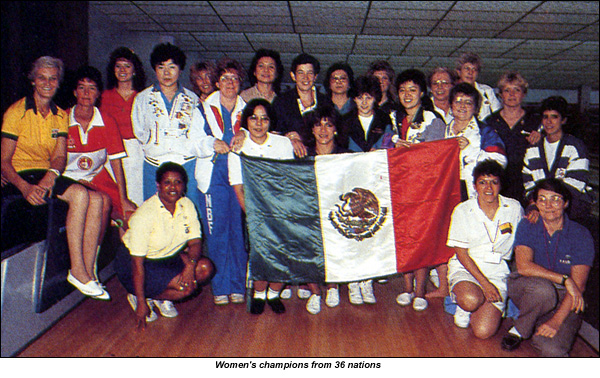 His opponent was Australia's Ian Bradford, whose finesse stood in stark relief to Khalifa's bombast. It was a day for bombast. Khalifa struck out from the ninth for 246 while Ian sank out of sight with 197, and the United Arab Emirates had its first international champion in any sport.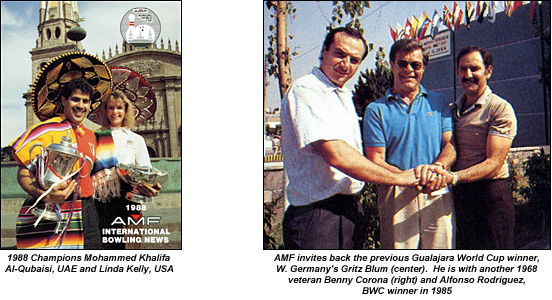 Linda Kelly, a 39-year-old Dayton school teacher, captured the women's crown when she decisioned Diana Tanlimco of the Philippines, 199-170, becoming the first U.S. female champion since Lucy Giovinco won in 1976.
Click here to see
bowler details
.
Archives
Since the first event in 1965, winning AMF's Bowling World Cup title has been the most coveted goal in amateur bowling. Whether held in the shadows of the Great Pyramids in or under the bright lights of , each tournament has provided unforgettable moments from competition that has spanned five decades.

Browse the archives to discover or revisit these moments, competitors, and the great champions that have made up the rich history of AMF's Bowling World Cup.