1982
Scheveningen, Holland
Bowling Nederland and the city of Scheveningen rolled out the red carpet for the contestants of the 18th AMF Bowling World Cup, but even they couldn't match the charm and excitement of a young Aussie player who would change the image of women bowlers after that week.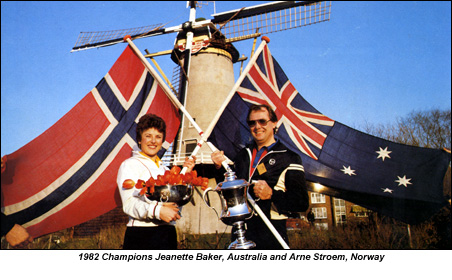 Jeanette Baker, an Australian secretary, captured the media's fancy with her stylishly short skirts, sassy haircut and uninhibited body language during the weeklong tournament. She also captured the No. 1 position for the stepladder finals in the women's division and eventually the title, dropping Sweden's Inger Levhorn in the championship match. Levhorn, who fared much better at sea level than she did in the rarified atmosphere of Bogota four years earlier, managed to beat defending champion Pauline Smith before slumping under Baker's onslaught, 212-166. The new champion burst into tears after the contest. "It's wetter in here than a Dutch canal," she joked.

Norwegian psych-master Arne Stroem qualified second and was all but conceded his second BWC title. After trundling out in a red jump suit, Stroem went into his patented routine: snorting, pacing about wildly, adjusting his equipment, ignoring his opponents. It worked, of course; Stroem dispatched Tsung-Cheng Cheng of Chinese Taipei before whipping the top seed, Kru Somsak of Thailand, 223-195 for his second men's crown.
Click here to see
bowler details
.
Archives
Since the first event in 1965, winning AMF's Bowling World Cup title has been the most coveted goal in amateur bowling. Whether held in the shadows of the Great Pyramids in or under the bright lights of , each tournament has provided unforgettable moments from competition that has spanned five decades.

Browse the archives to discover or revisit these moments, competitors, and the great champions that have made up the rich history of AMF's Bowling World Cup.