The AMF Bowling World Cup came to Bogota at a time when there was an average of 187 street robberies a day. The law of averages pre-destined Bowling World Cup bowlers and visitors to be part of those statistics, and the law did not fail. At least a dozen bowlers were mugged or robbed. Tom Marshall, the British player, broke a boy's arm after the kid pinched his watch. "Let him go," said a cop. "He's already suffered enough."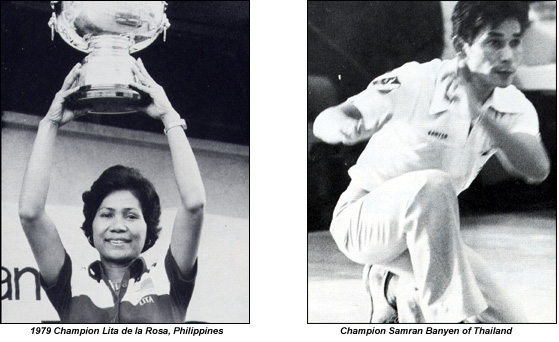 Things were nearly as difficult on the lanes as they were on the streets. A lot of bowlers couldn't get used to Bogota's elevation-nearly 9,000 feet above sea level. A few, like Sweden's Inger Levhorn, actually fainted and were attended to by the ever-present medical technicians with their oxygen tanks. Levhorn eventually withdrew from the competition, but Lita de la Rosa, a tiny Filipina with a bad heart and a backup ball, persevered: she beat Ireland's Pauline Cafolla in the finale, 564-497.
The men's competition started with a double-take: after the first day, a New Caledonian named Lionel Garnier was setting the pace with just a 194 average. However, Garnier soon dropped back, and Thailand's Samran Banyen and France's Philippe Dubois, emerged as the eventual finalists. Though Dubois established a commanding lead after the first of three games, 218-184, he was destined to be a Bowling World Cup bridesmaid again. Banyen gave Thailand its first men's Bowling World Cup championship with a 653-582 drubbing of France's favorite bowler.
Click here to see
bowler details
.
Archives
Since the first event in 1965, winning AMF's Bowling World Cup title has been the most coveted goal in amateur bowling. Whether held in the shadows of the Great Pyramids in or under the bright lights of , each tournament has provided unforgettable moments from competition that has spanned five decades.

Browse the archives to discover or revisit these moments, competitors, and the great champions that have made up the rich history of AMF's Bowling World Cup.