When the AMF Bowling World Cup returned to England in 1977, a new bowling group was there to greet it. The World Bowling Writers, an international association formed with the intent of enhancing bowling communications around the world, attracted a dozen writers to its first meeting, held during tournament week. They were rewarded with plenty to write home about, in the person of Arne Stroem of Norway.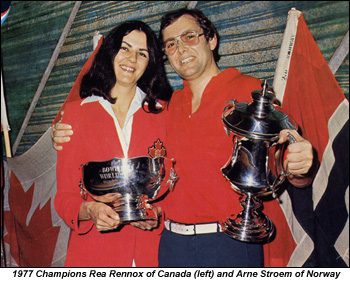 A husky player with a strong physical game, Stroem's forte was his ability to psyche out his opponents. He was always late for his matches; he bowled with painful deliberation; and he never spoke a word. He introduced tactical mental strategy to big-time international bowling by making it to the three-game finals handily, where he faced France's Philippe Dubois.

Dubois appeared to have Stroem's number when he downed the Norwegian in the second match, 206-203, after finishing just behind him by three pins in the opener. But Stroem upped the ante. He huffed and puffed and scowled. He walked off to the sidelines. He fiddled with his equipment. As he sighted over his ball, the seconds ticked away. Not only was he driving Dubois crazy, he was driving him into defeat, 606-603.
In the women's competition, Canada added another Bowling World Cup to its laurels when Rea Rennox beat American college student Lauren LaCost in the finals, 570-542.
Click here to see
bowler details
.
Archives
Since the first event in 1965, winning AMF's Bowling World Cup title has been the most coveted goal in amateur bowling. Whether held in the shadows of the Great Pyramids in or under the bright lights of , each tournament has provided unforgettable moments from competition that has spanned five decades.

Browse the archives to discover or revisit these moments, competitors, and the great champions that have made up the rich history of AMF's Bowling World Cup.