1975
Magellanes Village, Philippines
The tenth anniversary of the AMF Bowling World Cup was a genuine thriller, from the police escorts of media and players to and from the airport, to trying to wrap up tournament activity each night before the government-imposed martial law curfews fell. Host proprietor Popit Puyat, a member of the Philippine senate, even managed to arrange a visit for World Cup visitors with then president Ferdinand Marcos. It was a special occasion and another milestone in the event's colourful history.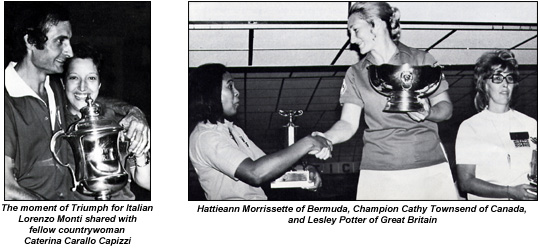 The athletes lived up to the expectations raised by the lavish receptions and media coverage. Canada's Cathy Townsend and Bermuda's Hattieanne Morrissette were slated to face off for the women's title, prompting Morrissette, a stunning black woman, to say, "This will be the chocolate-and-vanilla finals." "Vanilla" won, 540 to 509. Lorenzo Monti became the first-ever Italian champion when he defeated Carlos Lovera of Venezuela, 561-544.
Click here to see
bowler details
.
Archives
Since the first event in 1965, winning AMF's Bowling World Cup title has been the most coveted goal in amateur bowling. Whether held in the shadows of the Great Pyramids in or under the bright lights of , each tournament has provided unforgettable moments from competition that has spanned five decades.

Browse the archives to discover or revisit these moments, competitors, and the great champions that have made up the rich history of AMF's Bowling World Cup.