Venezuela, one of the "haves" in the oil wars of the 1970s, was growing a substantial upper class in 1974 that had time and money to spend on luxuries and leisure, including bowling. Thus, on the AMF Bowling World Cup's first visit to South America, bowlers were greeted with packed houses of well-dressed Caracas citizens each day at host center Prados del Este. It was the "thing" to do that November.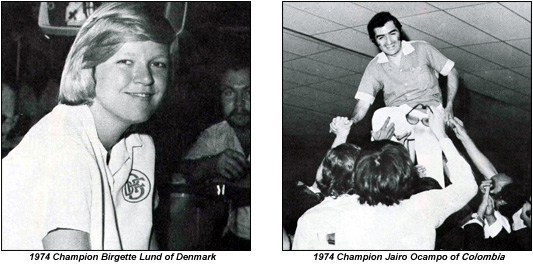 The spectators were well-rewarded for their efforts. Blonde, bubbly, 20-year-old Birgitte Lund, a social worker from Denmark, became the Bowling World Cup's first "personality" champion when she defeated the more experienced Dale Gray of Australia, 573-565, in the three-game women's wrap-up.
In the men's division, Louis Wildermeersch of Belgium was taking his fifth fling at the title. A Belgian dockworker, Wildermeersch was a wry soul and a great favorite of the media. But he lost out again, this time to Jairo Ocampo of Colombia, 587-563.
Click here to see
bowler details
.
Archives
Since the first event in 1965, winning AMF's Bowling World Cup title has been the most coveted goal in amateur bowling. Whether held in the shadows of the Great Pyramids in or under the bright lights of , each tournament has provided unforgettable moments from competition that has spanned five decades.

Browse the archives to discover or revisit these moments, competitors, and the great champions that have made up the rich history of AMF's Bowling World Cup.