The man who won the 1973 AMF Bowling World Cup almost didn't make it into the country, much less the tournament finals.
Britisher Bernie Caterer was detained upon his arrival at the Singapore airport because his hair was too long. Singapore officials had previously decided that any male who wore his hair longer than the neckline was suspect, possibly a drug dealer or some other undesirable type, and Caterer's Mod-styled locks exceeded the limit. After extensive negotiations,Caterer and his hair were allowed to enter the country. Lucky for him; Caterer went on to become the first British bowler to win the Bowling World Cup. He inched past Canada's Glen Watson, 643-642, by converting a 6-10 spare in the 10th frame of the final game, and filled the mark with a nine-count.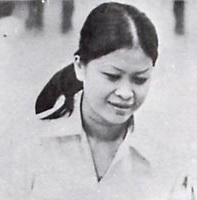 Kesinee Srivises of Thailand captured the women's division when she smothered Mele Anaya of Mexico, 569 to 495.
The 1973 tournament was held at Jackie's Bowl, which was owned by Herbie Lim. Lim would become one of the most familiar faces on the World Cup scene thereafter, showing up at the host city with his wife, Doris, on one arm and a bag of golf clubs on the other. His amazing history-he escaped the Japanese when they invaded Singapore in World War II, became a resistance fighter, and would later hobnob with famous Hollywood celebrities as the owner of one of Singapore's early theaters-yielded one fascinating story after another at Bowling World Cup functions and lent an aura of glamour to the tournament.
Read
comments
by Men's Champion Bernie Caterer.
Archives
Since the first event in 1965, winning AMF's Bowling World Cup title has been the most coveted goal in amateur bowling. Whether held in the shadows of the Great Pyramids in or under the bright lights of , each tournament has provided unforgettable moments from competition that has spanned five decades.

Browse the archives to discover or revisit these moments, competitors, and the great champions that have made up the rich history of AMF's Bowling World Cup.