The Hamburg AMF Bowling World Cup is best remembered for taking "one giant step for womankind," so to speak. Women bowlers joined the men on the tournament lanes for the first time at St. Paulii's Astrid Bowl; and Mexico, which came so close in 1971 to claiming its first Bowling World Cup trophy, finally broke through with Irma Urrea. Urrea, a grandmotherly type from Mexico City, easily turned away Thailand's Oy Sri-Saard, 591-537, in the three-game women's finale.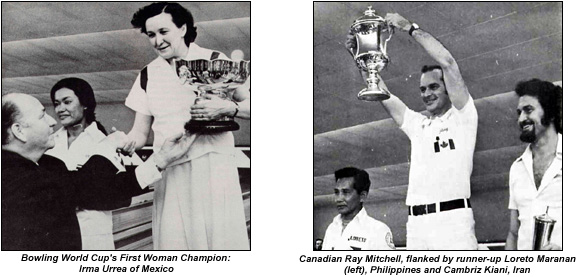 On the men's side, defending champion Roger Dalkin was back, but a heavy work schedule (he was now running the student union at Georgia Tech after graduating) had kept him from reaching the dominant form he displayed in Hong Kong. Honors instead fell to Canadian Ray Mitchell, a 40-year-old telephone company executive from Toronto. Mitchell, who averaged 207 over the final stages of the tournament, managed to eke out a 550-532 victory over Filipino police officer Loreto Maranan in the televised men's finals.
In addition to the Bowling World Cup's welcoming women for the first time, another noteworthy event happened at Hamburg. West Germany's Bernd Baule racked up the highest single-game score to date in the tournament, with his 297 game in qualifying. The mark would stand for more than 20 years.
Click here to see
bowler details
.
Archives
Since the first event in 1965, winning AMF's Bowling World Cup title has been the most coveted goal in amateur bowling. Whether held in the shadows of the Great Pyramids in or under the bright lights of , each tournament has provided unforgettable moments from competition that has spanned five decades.

Browse the archives to discover or revisit these moments, competitors, and the great champions that have made up the rich history of AMF's Bowling World Cup.