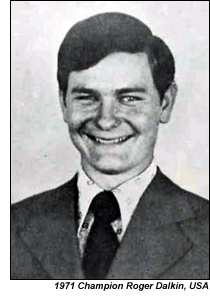 The 1971 AMF Bowling World Cup was held at Four Seas Bowling Center, in the midst of Hong Kong's hubbub. It marked the emergence of AMF's Paul Lane in complete charge of the event, a tenure which would last until 1985. His input to the World Cup was always imaginative and accomplished.
Roger Dalkin, a student at Georgia Tech with a rifle-shot delivery, defeated Mexico's Benny Corona in the three-game finale, 542 to 524. It would be Dalkin's only international championship; yet he would continue to influence international bowling years later, when he was elected executive director of the world's largest bowling membership group, the American Bowling Congress.
The low-scoring finals probably resulted in the most memorable moments of the seventh AMF Bowling World Cup coming from the victory party that followed. The banquet was held on a floating restaurant in Hong Kong Harbor, and lasted until the early hours of the next day. What must it have been like for champion Dalkin to see the lights of Kowloon reflected in the silver-plated trophy that now bore his name? And what must it have been like for Benny Corona to see the same slip away from his grasp yet again? It would be the closest Corona ever got to his dream.
Click here to see
bowler details
.
Archives
Since the first event in 1965, winning AMF's Bowling World Cup title has been the most coveted goal in amateur bowling. Whether held in the shadows of the Great Pyramids in or under the bright lights of , each tournament has provided unforgettable moments from competition that has spanned five decades.

Browse the archives to discover or revisit these moments, competitors, and the great champions that have made up the rich history of AMF's Bowling World Cup.