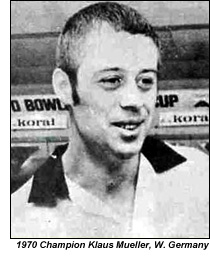 A record field of 43 entries greeted new tournament organizers Gerry Belton and Paul Lane, who took over from founder Vic Kalman, when the sixth AMF Bowling World Cup began at Rodovre Bowling Center. The number of participating nations had doubled in just six years, but that did not faze West Germany's Klaus Mueller. He averaged 205 to lead the field and then wrapped up the title by outpinning Singapore's Henry Tan in the three-game finale, 651 to 581.
Mueller had learned to bowl by watching American servicemen practice in a military center in Germany. "I was a tile setter at the time," he recalled, "so when the first commercial center was built in my town, I made sure I got the tile contract. I wanted to see how bowling centers are built. I wanted to know everything about the sport. I spent many hours, hanging around that center, watching how the best bowlers did it."
While the general tenure of the Bowling World Cup is one of bonhomie and goodwill, the tournament is not immune from the politics of the outside world. Such was the case in Copenhagen, where the Arab-Israeli "issue" came up for the first time. Israel's Azariya Strougo actually went nightclubbing with one of the four Arab bowlers in the tournament, but the others swore they'd depart if they had to bowl head-to-head against the Jewish athlete. They didn't: Strougo was eliminated early on. But the brush was an indication of what the future held...
Click here to see
bowler details
.
Archives
Since the first event in 1965, winning AMF's Bowling World Cup title has been the most coveted goal in amateur bowling. Whether held in the shadows of the Great Pyramids in or under the bright lights of , each tournament has provided unforgettable moments from competition that has spanned five decades.

Browse the archives to discover or revisit these moments, competitors, and the great champions that have made up the rich history of AMF's Bowling World Cup.