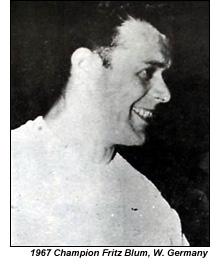 Fears that U.S. bowlers might dominate the International Masters forever dissipated when Florida's Jerry Steele went into a tailspin at El Bol Guadalajara after leading early in the week. By the final day, the only survivors from the original field of 35 were Canada's Jim Kramer, Sweden's Georg Andersson, Germany's Fritz Blum and Mexico's Benny Corona.
Corona, a Tijuana liquor salesman, was a photographer's delight, leaping skyward whenever he struck or converted a spare. But after defeating Andersson in the stepladder opener, all Corona's gymnastics couldn't save him from Blum in the semifinal match. Buoyed by the victory against the hometown favorite Corona, Blum, a locksmith from Mannheim, cruised past Kramer in the final two-game matchup, 385-334.
And all in attendance agreed that mariachis and margaritas under Mexican moonlight could outshine even the nightlife of Paris.
Archives
Since the first event in 1965, winning AMF's Bowling World Cup title has been the most coveted goal in amateur bowling. Whether held in the shadows of the Great Pyramids in or under the bright lights of , each tournament has provided unforgettable moments from competition that has spanned five decades.

Browse the archives to discover or revisit these moments, competitors, and the great champions that have made up the rich history of AMF's Bowling World Cup.