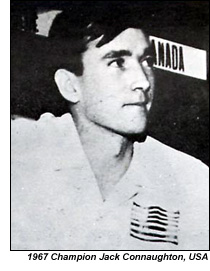 Bowling de Paris, an elegant 12-lane center in the French capital's massive central park known as Bois de Boulougne, played host to the 3rd International Masters. Bowling de Paris, France's first commercial tenpin bowling center, was probably the most unique venue in the tournament's history to date. A flock of cockatiels in an aviary squawked as visitors opened the polished wood entry door, and a three-star restaurant overlooked the bowling action. The lanes were surrounded by huge picture windows, which provided a panoramic view of the park's ancient oaks. The only horse stable in central Paris, patronized regularly by Bowling de Paris operator Michel Chollet, was tucked behind the center.
A change in the U.S. selection criteria resulted in the current Association of College Unions-International (ACU-I) champion going to the International Masters, instead of the ABC all-events winner. Thus, young Jack Connaughton, who had just won the intercollegiate title in Miami, was dispatched to Paris. Connaughton, from Oconomowoc, Wis., had to contend with the best male bowlers from 29 nations this time, as the field continued to grow.
Connaughton nailed the top position for the finals on the strength of a 200 average, and he stayed close to that mark in the championship game, defeating Kazou Hayashi of Japan, 195-172, to make it two in a row for the U.S. The International Masters was beginning to look like a showplace for American tenpin expertise. But the Yanks would be in for a rude shock the following year, when the tournament crossed the Atlantic for the first time.
Archives
Since the first event in 1965, winning AMF's Bowling World Cup title has been the most coveted goal in amateur bowling. Whether held in the shadows of the Great Pyramids in or under the bright lights of , each tournament has provided unforgettable moments from competition that has spanned five decades.

Browse the archives to discover or revisit these moments, competitors, and the great champions that have made up the rich history of AMF's Bowling World Cup.