2007

St Petersburg, Russia
3rd - 11th November 2007
11/06/2007
Women after 18 release: Sue Abela takes over the lead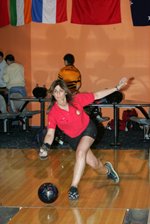 The 43rd QubicaAMF Bowling World Cup has a new leader in the women's section - Sue Abela from Malta. She shot 1331 today and moved into firstspot on a total of 3923.
Our leader until today, Sun Hee Lee of Korea had, for her, a low scoring set with 1228 and is now in second place on 3864.
Aumi Guerra from the Dominican Republic had the highest block of the day on a superb 1403 to make up the ground she lost yesterday and move up into 3rd place on 3854. She is just ahead of Germany's Tina Hulsch on 3848.
Aumi also hit a 279 game to take over the high game of the tournament. "I was really disappointed with my scores yesterday," she said. "I had a foul at one point and I let it get to my head and then played badly. I knew I had to do something today and I'm pleased how I played. I don't think the 279 will remain as high game for the tournament but you never know."
There are now only six games to go before the cut to the top 24. Helga DiBenedetto of Italy is in 24th place on 3548 but Michaela Blazekova from Slovakia is just 4 pins below the cut.
It remains all to play for.
Above Sue Abela in action. Credits: QubicaAMF and Hero Noda]