2007

St Petersburg, Russia
3rd - 11th November 2007
11/05/2007
Petteri Salonen of Finland hits new six-game record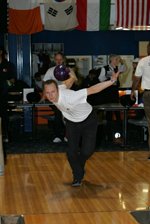 Petteri Salonen of Finland hit a new Bowling World Cup record for six games when he amassed 1538 pins in the second qualifying block at the 43rd QubicaAMF Bowling World Cup in St Petersburg, Russia today.
His series included back to back 279 games (247, 220, 256, 279, 279, 257) which beats the 1513 set by Jason Belmonte in 2004 in Singapore.
Petteri, naturally, was delighted afterwards and said: "Yesterday, I only shot 1158. It was bad bowling and a lot of bad decisions. So I stayed and watched the second squad then decided to change the ball and change the line.
"And today it worked! I was much more relaxed, my head opened up and I got some good breaks as well. If someone said to me I would shoot 1538 I would say he had been at the bar and had a beer!"
Jason still leads the tournament having hit 1374 today to give him a total of 2826 over the 12 games. Petteri is now in 3rd place on a total of 2696 and between them, in 2nd place, is Bill Hoffman of the USA who hit 1367 to go with his 1433 from yesterday to give him a total of 2800.
The players are now half way through their 24 qualifying games after which the cut for the top 24 will be made. Our former champion from 2005 in Ljubljana, Michael Schmidt of Canada, is sitting right on the cut on 2495, a 207 average. Our two other former champions are also both in the top 24: Sweden's Peter Ljung, winner in Copenhagen in 1986, is lying in
7th place and Mohammed Khalifa al-Qubeisi from the UAE, winner in 1988 in Guadalajara is in 19th.
[Petteri Salonen in action. Credits: QubicaAMF and Hero Noda]