2007

St Petersburg, Russia
3rd - 11th November 2007
11/04/2007
High scores from the ladies in the first qualifying block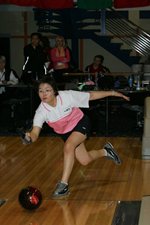 Sun Hee Lee from Korea blitzed them in the first qualifying block of six games in the 43rd QubicaAMF Bowling World Cup in St Petersburg, hitting 1386, an average of 231, to go into an overnight lead. The 36-year-old from the town of Dan Jin Kun has looked in fine form from the practice sessions onwards.
However, she is not having it all her own way with other fine players high on the leaderboard.
Aumi Guerra, lying in 2nd place on 1376, left her home in the Dominican Republic just before Hurricane Noel hit the country. She is many people's choice to reach the finals, having finished in 5th place in Caracas last year.
The early leader from the first squad is an old friend of the Bowling World Cup – Sue Ablea of Malta who is in third place. She first played in the event an amazing 20 years ago when she took part in Malaysia and this is her 9th appearance in the event. She shot 1342 over the six games. Sue won the Sportswoman of the tournament trophy in 1991 in Beijing, when she also recorded her highest finish of 6th place.
Helen Johnsson of Sweden is also riding high, in 4th place on 1336. This is her fourth appearance in the Bowling World Cup and she will be looking to improve on her 5th, 5th and 6th positions in Singapore, Ljubljana and Caracas.
The cut for the top 24 will take place after 24 games have been bowled by all the competitors. At present the cut is a 195.8 average.
The high game in the women's section of the tournament so far is 263 from Tina Hulsch of Germany.
[A photograph of Sun Hee Lee in action. Credits: QubicaAMF and Hero Noda]