2007

St Petersburg, Russia
3rd - 11th November 2007
11/05/2007
Field closes on Sun Hee Lee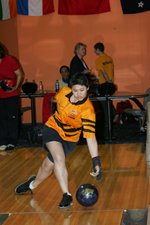 Sun Hee Lee of Korea remains in the lead on a total of 2636 (an average of 219) at the half way stage of the 24 qualifying games in the 43rd QubicaAMF Bowling World Cup but others are chasing her hard.
High set of six came from 20-year-old student Sharon Koh of Malaysia with 1367 to pull herself up into 10th place. Sharon is making her first Bowling World Cup appearance but has plenty of experience of international play having been a national youth team member for two years, winning gold medals at both the Asian Games last year in Doha and a gold in the World Youth championships.
Malta's Sue Abela is in second with 2592 (1250 today), while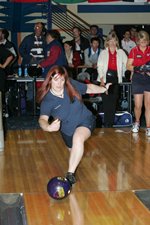 Sasha Luciano of Puerto Rico, making another Bowling World Cup debutante, shot 1323 to move up into 3rd place on a total of 2568. Tina Hulsch of Germany is now in 4th on 2565 ( 1237 today).
We also saw a new high game for this tournament for the women with both Sandra Torrents of Spain and Sharon Koh shooting a 268. Sandra has played in five previous Bowling World Cups, including 2005 in Ljubljana and last year in Caracas.
With qualifying at the halfway stage, the cut is currently a 195 average with Irena Strakova of the Czech republic in 24th place.
[Below: Sharon Koh and Sandra Torrents in action. Credits: QubicaAMF and Hero Noda]