2007

St Petersburg, Russia
3rd - 11th November 2007
11/10/2007
Australia and Usa top the World in St Petersburg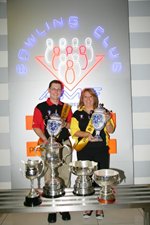 Ann-Maree Putney of Australia and Bill Hoffman of the USA have been crowned as QubicaAMF Bowling World Cup champions for 2007.
Ann-Maree bowled superbly this morning to beat Sun Hee Lee of Korea in the final winning by two games to nil (280 and 247 to 201 and 226). Her total of 527 is just one short of the all-time record for two games in the TV finals, but her 280 game is the high game for this tournament.
Earlier, Sun Hee Lee had defeated the young German star Tina Hulsch, also by two games to nil (227 to 258 to 223 and 226).
Ann-Maree, whose two sons are back in Australia with their grandparents, said afterwards: "My goal when I came here was to beat my previous best finish which was 4th and I've certainly done that! My 280 game really set it up and when I tipped the four pin in the 10th I knew that was it. This is just the greatest feeling and my best win ever."
Bill equally bowled exceptionally well beating Andres Gomes of Colombia in the sim final by 2 games to nil (247 and 276 to 196 and 205) setting up a final against number one seed Jason Belmonte of Australia.
It was not the final Jason had dreamed of - Jason will be getting married next Sunday and had wanted to give his fiancée Kimberly the World Cup. But Bill was on fire and won the first game by 227 to 147.
Jason came back in game two to win by 268 to 192, so there had to be a third game to decide the champion. It was nip and tuck until Jason left a split which he just failed to convert and Bill went on to win by 221 to 181.
"I had several motivating factors this week" said Bill afterwards. "I really hope this will get me up there into the World Bowling Writers Hall of Fame and be the first American to be inducted since 1963. And I wanted to win so that the US bowling programme can be recognised as the best in the world. Plus it's terrific to follow in the footsteps of Pat Healey who was the last American to win in 1995.
"I have been really impressed with St Petersburg. I visited the Hermitage this week and it's spectacular. And Baltika is one of my favourite beers so it's great to be able to come to the city where it's brewed!"
It was the 4th year in a row that the USA and coach Jeri Edwards have won the Bowling World Cup, but the last three years it has been the women who have finished on top of the podium.
2007 QubicaAMF Bowling World Cup Winners: Ann-Maree Putney and Bill Hoffman.