2009

Melaka, Malaysia
13th - 20th November
11/14/2009
Malaysian Sports Minister visits 45th QubicaAMF Bowling World Cup
visit to Melaka centre
QubicaAMF and the Melaka International Bowling Centre were delighted to welcome not one but two Ministers to the centre yesterday (November 13th) in advance of the 45th Bowling World Cup starting.
Datuk Ahmed Shabery Bin Cheek, the Malaysian Minister for Youth and Sports, recently returned from Britain where he was checking out the training facilities for the Malaysian team for the London 2012 Olympic Games, but took time out from his busy schedule to come to Melaka, look at the centre and meet the players who will be carrying Malaysia's hope – Zulmazran Zulkifli and Siti Safiyah Amirah.
He was presented with a Team Malaysia shirt, then impressed all the spectators with his skill on the lane. He followed this up by competing in a mini tournament with representatives of the tournament sponsors and local government. Earlier in the day, the Chief Minister of Melaka, Datuk Seri Mohamed Ali Bin Mohamed Rustam, had also visited the centre. The State government of Melaka has been instrumental in bringing the Bowling World Cup to the city and in organising the event.
Anne-Marie Board, QubicaAMF Bowling World Cup Manager, commented: "We are truly honoured to have such high profile Ministers visit us and take such an interest in the event. Datuk Ahmed Shabery Bin Cheek certainly seemed to enjoy his time on the lanes! And the state government of Melaka has been so helpful in backing the event and pulling out all the stops to ensure the success of this event.
"I'm sure both the Ministers will be watching the tournament with interest – and hoping for a Malaysian victory!"

Most of the players have now arrived in Melaka, and today will be given over to unofficial practice. Players have also been invited to go on a tour this evening of historic Melaka, which is a World Heritage Site. Tomorrow will see official practice and the opening ceremony which this year will take place in the event hotel, the Hotel Equatorial. The tournament starts in earnest on Monday with the first block of eight games for men and women with the finals on Thursday which will be live on Malaysian TV.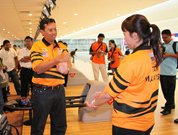 photo by Heroshi Noda and © QubicaAMF