2009

Melaka, Malaysia
13th - 20th November
11/17/2009
Korean Choi Yong-Kyu shot the high set of the day
high set of the day with 1788 over his eight games
Korean Choi Yong-Kyu shot the high set of the day with 1788 over his eight games to take over the lead in the 45th QubicaAMF Bowling World Cup in Melaka, Malaysia with a total pinfall of 3666after 16 games. In all, ten of the men shot over 1700 in this round of the high scoring event.
Last night's leader, former champion Michael Schmidt of Canada, had a bad day at the office and could only manage 1533 and dropped to 9th place.
Martin Larsen, runner-up last year, hit 1735 and is currently in second place on 3573 with local hero Zulmazran Zulkifli on 3534 in third after shooting 1757.
Choi has been pleased with his performance so far and said: "I was two pins down yesterday, but I want to be number one! The lanes are very good and I hope to play well again tomorrow."
There are now just eight games to go before the field is cut to the top 24. Currently there are three players  in 24th -  Marco Reviglio of Italy, Choi Io Fai of Macau and Kert Truus of Estonia, all on 3295.
In 27th and just 8 pins off the cut is Jay Leon Guerrero of Guam who was down in 47th overnight but pulled himself up into contention with 1722. Another player to shoot over 1700 was Paul Wright from the island of Jersey: after his 1724 he is now in 32nd place. Petter Hansen of Norway, our runner up in 2004 in Singapore, shot 1732, to go part of the way to make up for his poor performance, by his standards, yesterday when he found himself down in 68th place.
The highest game so far is 287 by Scotland's Mark Kerr and 38 players are averaging over 200.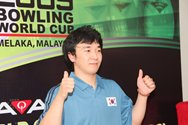 photo by Heroshi Noda and © QubicaAMF
The other players to hit over 1700 today were Ryan Leonard Lalisang (Indonesia) 1770, Thomas Larsen (Denmark)1710, Hussain Al Suwaidi (UAE) 1745, Surasak Manuwong (Thailand) 1732.
The last qualifying block of eight games will start at 3pm tomorrow afternoon, local time. The top 24 will then bowl a further eight games at 8pm local time.