2009

Melaka, Malaysia
13th - 20th November
11/17/2009
Former champ on top again
Michael Schmidt of Canada on top again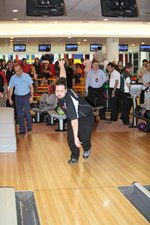 photo by Heroshi Noda and © QubicaAMF
Michael Schmidt of Canada, our champion in 2005 in Ljubljana, is leading the men's section after the first qualifying block of eight games in the 45th QubicaAMF Bowling World Cup in Melaka, Malaysia – but only just. He was pushed hard by Choi Yong-Kyu of Korea with the two of them just two pins apart.
Michael finished on 1880 (a 235 average) with Choi on 1878 and Sweden's Martin Larsen, last year's runner up, a further 40 pins behind. Local favourite Zulmazran Zulkifli is in 5th place.
 
Another score of note is Arturs Levikins of Latvia who is lying in 8th place. Arturs is the youngest player in the men's section at just 16. It is the best first day result for a Latvian by far.
The players will bowl a further two blocks of eight games before the cut to the top 24. The cut at the moment lies with Michael Loos of Austria on a 208.75 average.
 
Michael Schmidt was clearly delighted with his play today. "I had to start from scratch to qualify to represent Canada, right from the first rounds all the way through to the national finals. It brought me back down to earth and taught me a lot, not least how much this championship means.

"I didn't expect to be leading after the first day. Of course, you always hope! It helped that Choi and I were on the same pair of lanes for the final game of the day and that gave added impetus to our play. But there is a long way to go yet and a lot of bowling to do."
Michael paid tribute to coach Sandy Lowe and his Dad Rick. "Dad has been a great support throughout my bowling career and Sandy was a real help down on the lanes today."
 
Four time champion Paeng Nepomuceno is down in 31st place, 44 pins off the 24th slot. Pro bowler Walter Ray Williams of the USA is in 36th, 53 off the cut. A total of 40 players are averaging over 200.

Fans around the world can get all the results and follow the scores on line by clicking on the on-line scoring logo.