2009

Melaka, Malaysia
13th - 20th November
11/18/2009
England still on top but Canada up to third
England still on top but Canada up to third
After the second block of eight games, England's Zara Giles remains on top in the women's section of the 45th QubicaAMF Bowling World Cup in Melaka, Malaysia. She is now on 3492 an average of 218.
Evgenia Tsarkova from Russia remains in second place on 3471 after hitting 1720, but Canadian player Caroline Lagrange hit the high eight-game set of the day – men or women – with 1805 and leapt up into third place from 10th overnight.
Four other women shot more than 1700 – Liza del Rosario of the Philippines (1782), Baek Seung-Ja of Korea (1770), Beatrix Pesek of Hungary (1718), Tennelle Milligan of the USA (1710) and Ann Maree Putney of Australia, our champion in 2007, (1705). Beatrix moved up from 39th to 23rd, just above the cut line of the top 24.
Lying in that coveted 24th spot is Katrien Goossens from Belgium who actually finished 24th last year. But Belinda Tam from New Zealand is only eight pins behind.
Zara commented afterwards: "I felt a bit unsettled at the start and had a poor game – 150 – in the third game, but I came back and I am really pleased to be on top still. But there is a long way to go!"
The final qualifying block of eight games is being played today (Wednesday) starting at 10 am local time. The top 24 will bowl a further eight games tonight, starting at 8pm.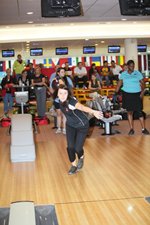 photo by Heroshi Noda and © QubicaAMF