2008

Hermosillo, Mexico
7th - 15th November 2008
11/14/2008
High scoring finals see championship go to Singapore and USA
In some of the highest scoring finals ever seen, Jasmine Young-Nathan of Singapore and Derek Eoff of the USA took home the championship titles from the 44th QubicaAMF Bowling World Cup in Hermosillo, Mexico, today.

In the first rung of the step ladder finals, the defending champion, Australian Ann Maree Putney, defeated England's Zara Glover by two games to nil, 246 to 219 and 248 to 202.

In the men's section, Martin Larsen of Sweden defeated Zulmazran Zukifli of Malaysia, by two games to one, 203 to187, 180 to237 and 249 to187.

So Ann Maree and Martin moved forward to meet our top seeds, Jasmine and Derek.
Both matches lived up to the expectations of a World Cup. In the first game, Ann Maree scored 222 but was outpaced by Jasmine who threw the first 9 strikes, leaving a big split in the 10th frame to finish on 263. The second game was of the highest quality; this time Jasmine threw the first eleven strikes before hitting eight with her final ball, setting a new record of 298 for the World Cup finals. Ann Maree hit 215, so the title went to Singapore.
Jasmine, a 20-year-old student of media and communications, said afterwards: "I just tried to throw the best ball I could and if that meant a 300, then that is what it meant. I have been having some psychology sessions before coming here and concentrating on my refocusing plan, coping with setbacks. These sessions have really helped me."
Jasmine paid tribute to her coach, Mervyn Foo. "He was in our national team for many years and it is great to have a coach who understands what a major tournament is all about."
This is the first time that Singapore has ever won the Bowling World Cup in either the men's or the women's section. "I have been keeping in touch with home by texting my family on my i-phone," Jasmine said. "I know there is a lot of interest in what I have done here but I don't know what to expect when I get home."
The men's final produced the highest scores ever seen in the Bowling World Cup. Martin won the first game 229 to221. Then both men hit strike after strike to draw the game 279 apiece. This meant a 9th-10th frame roll off, the first time that has happened in World Cup history. Derek hit three strikes and a 9; Martin strike, nine spare, 7.
So it went to a final game. Derek continued where he had left off and hit 278, a total of 778, a new championship record. Martin could only manage a 196, so the trophy and title went to the USA, the 6th time in seven years that the USA has taken one of the titles.
Derek, who is 28 years old and works for the USBC on the Sport Bowling programme, commented: "This is by far my biggest win ever – way ahead of anything else. I knew I would be up against some great players and I kept looking at the QubicaAMF web site to see who would be playing here.
"I was very lucky to have Jeri (Edwards) as my coach here. She has so much experience of previous World Cups and really helped me here this week."
Derek went to University in Nebraska, attracted there by their bowling programme, and studied for a degree in business management. He plays other sports, notably baseball, soccer and softball, but his key way to keep fit is to take his rescue dog, Reeses, for a walk.

The top country award went to Sweden, Martin Larsen having come second and Helen Johnsson 4th.
The award for Sportsman and Sportswoman of the tournament will be presented at the farewell dinner and party this evening.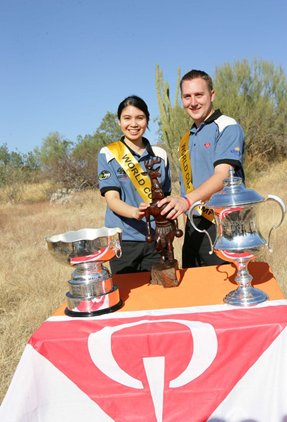 All photos are by photographer Heroshi Noda for QubicaAMF