2011

Johannesburg, South Africa
30th November - 7th December 2011 - 47th Bowling World Cup
12/07/2011
Great bowling in the finals
of 47th Bowling World Cup
Both the women's and men's finals of the 47th QubicaAMF Bowling World Cup in Johannesburg produced some of the finest bowling ever seen in the tournament.

The women were first up with Sandra Andersson of Sweden hitting 267 in her first game against Diandra Asbaty (USA) 217. Diandra came back to take the second game 247 to 219 so we were in for a decider. Diandra hit strike after strike while Sandra left a split in the 7th frame. Even so she finished with a 243 but it was not enough to beat Diandra's superb 279.

Diandra then moved on to play the top seed, Aumi Guerra of the Dominican Republic, so we were certain to have a two-times champion. Aumi shot 266 in her first game despite a split while Diandra never really got going and despite an all closed game finished on 201. The final game was nip and tuck all the way with first one then the other taking a slim lead.

By the 10th frame, Diandra needed to strike with her first ball to take the title but she left a 10 pin, finishing on 199 to Aumi's 202. So Aumi became only the second person ever to successfully defend the title.

She said afterwards: "I have been so focussed on my play that I have even stayed away from Facebook! Now I am going to have lots to eat, go swimming, go to the beach and chill!"

The first match for the men was between the Ukraine's Mykhaylo Kalika and Jason Belmonte of Australia. Mykhaylo was clearly nervous and hit 203 in his first game to Jason's 237 but it was a different story in the second game when he hit 266 beating Jason's 248. So again we were into a deciding game, which Jason won by 266 to 185.

Jason then came up against Tommy Jones of the USA. The first game was high scoring, Tommy winning by 279 to 259. Again, Jason came back and won the second by 247 to 216. So yet again we needed a decider.

And what a game it was, strike for strike until Tommy opened the 8th frame, and finished on 236. It was up to Jason to close the 10th which he did in style finishing with 259 and becoming the first Australian man to take the title.

"I was a long way in the lead in 2004 in Singapore, and got knocked out early on," he said, "and again I led the field in St Petersburg in 2007 and then I lost in the final. So I was happy to go in as number two seed this time.

"All credit to Tommy for some great bowling. He always looked as if he was going to strike. And I do sympathise as I know what it feels like to lead the field and not win."

Jason's three game total of 765 is a new finals record, just beating the previous mark of 764 by Petter Hansen of Norway, set in Singapore in 2004.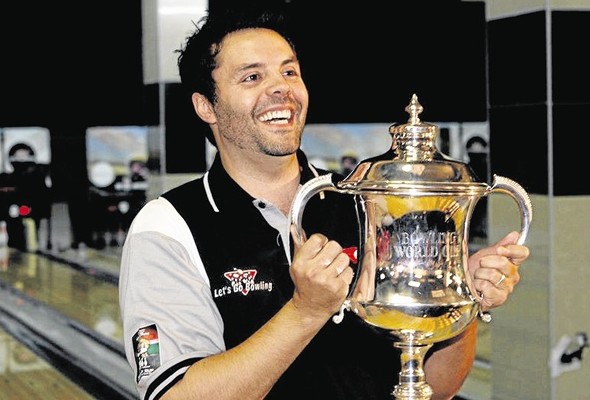 Photo: courtesy of Bowlingdigital